Ah, chocolate and peanut butter. That classic combination draws me in every time. This week, I decided to unite my chocolate and peanut butter in fudge form. I saw this recipe on Brown Eyed Baker, one of my favorite blogs, and decided to give it a shot.
Now normally I'm not the biggest fudge fan. Well, I shouldn't say that. I happen to think fudge is delicious, albeit kind of insanely sweet. But usually I'll go for a brownie or cookie or (generous) slice of cake before opting for fudge. Still, something about this recipe called out to me, so I figured I'd mix things up a bit.
The fudge itself didn't take long to prepare, but let me tell you, I got a bit of a workout while making it thanks to Step #5 below. But it was still totally worth it. And besides, this way I felt justified helping myself to an extra piece.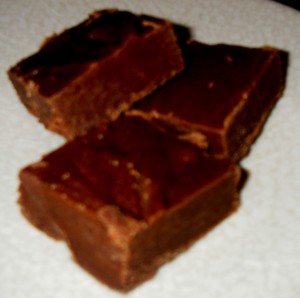 Chocolate Peanut Butter Fudge
Recipe from Brown Eyed Baker
Ingredients:
2½ cups granulated sugar
¼ cup cocoa powder
1 cup evaporated milk
1 tablespoon light corn syrup
½ cup unsalted butter, divided, with 2 tablespoons set aside
½ cup peanut butter
2 teaspoons vanilla extract
Method:
1. Butter an 8-inch square pan and line the pan with parchment paper.
2. Combine the sugar, cocoa powder, evaporated milk, and corn syrup in a saucepan over medium heat. Cook, stirring constantly, until all the sugar dissolves.
3. Add the 2 tablespoons of butter into the mixture and stir until the butter melts. Bring the mixture to a boil. Cover and boil for 3 minutes.
4. Remove the lid and continue to let the mixture cook, without stirring, until it reaches 234 degrees on a candy thermometer. Remove the mixture from the heat and, without stirring, add in the remaining butter, peanut butter, and vanilla. Let the mixture sit for 10 minutes.
5. Using a wooden spoon, beat the fudge until it thickens and begins to lose its gloss. This took me about 6-7 minutes, though the original recipe states that it can take up to 15. Um, yikes, considering that my arm felt like it was about to fall off at the 3-minute mark. You can also use a stand or hand mixture to tackle this step, but you have to be careful not to overbeat.
6. Pour the mixture into the prepared pan. Allow the fudge to come to room temperature and then cover the pan with plastic wrap and chill in the fridge until it sets (at least 2 hours).
7. Use the parchment paper to lift the fudge out of the pan. Slice and enjoy.