When it comes to candy, I'm a total kid at heart. Sure, I can indulge in a box of sophisticated truffles. But sometimes I like my candy to be bright and fun. Case in point: cake batter bark. I was in the mood for something different and decided to whip up a batch of fun, sprinkle-infused candy.
This stuff is sweet and tasty, and it's incredibly easy to make. The bad news is that it's also incredibly easy to eat…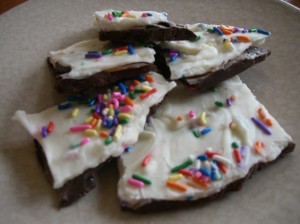 Funfetti Cake Batter Bark
Ingredients:
12 ounces semisweet chocolate
12 ounces white chocolate
3 teaspoons Funfetti cake mix
¼ cup rainbow sprinkles, plus more for topping
Method:
1. Line a baking sheet with parchment paper and set aside.
2. Melt the semisweet chocolate in the microwave at 50% power for 30-second intervals, stirring in between. Once melted, pour the chocolate onto the prepared baking sheet. Refrigerate until set (approximately one hour).
3. Once the semisweet chocolate has hardened, melt the white chocolate using the same method in the step above. Once melted, stir in the cake mix and ¼ cup rainbow sprinkles until well-combined.
4. Pour the white chocolate mixture over the semisweet chocolate. Use an offset spatula to spread the mixture evenly (or, if you don't have one or get lazy, just use the back of a regular spoon).
5. Scatter additional sprinkles over the white chocolate layer as desired.
6. Return to fridge and let set for at least an hour before breaking up into individual pieces.