Sometimes I get into these "I've got to have a brownie" moods—which is funny, 'cause I'm not always the biggest chocolate person (I know, blasphemy). In fact, most days I'd opt for a blondie before going for its cocoa-laden counterpart, but yesterday I was all about the dense, gooey chocolate brownie. I took a recipe I recently made, added a couple of tweaks, and about half an hour later found myself sitting on the couch with a warm, delicious concoction that took no more than 10 minutes to actually throw together.
Now I'll admit that I enjoyed the downtime almost as much as the brownie. Almost.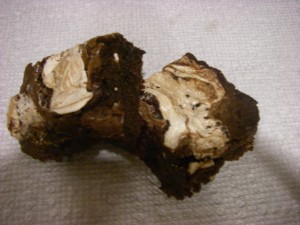 Marshmallow Caramel Swirl Brownies
Ingredients:
1 stick melted butter
½ cup unsweetened cocoa powder
1 cup sugar
2 large eggs
½ cup AP flour
¼ teaspoon salt
1 teaspoon vanilla
1 teaspoon instant coffee
1 cup caramel chips (these can be tricky to find, but butterscotch chips work just as well)
½ cup semisweet chocolate chips
1 cup marshmallow fluff, divided
Method:
1. Preheat your oven to 350 degrees and lightly grease an 8×8 pan.
2. Combine the melted butter and cocoa.
3. Add in your sugar and mix well.
4. Whisk in the eggs one at a time.
5. Stir in the flour, salt, vanilla, and instant coffee, then whisk to combine.
6. Stir in the caramel and chocolate chips.
7. Stir in ½ cup of the marshmallow fluff
8. Pour brownie mixture into the prepared pan.
9. Top mixture with remaining marshmallow fluff, using the edge of a greased spoon to swirl it around.
10. Bake for about 30 minutes, or until an inserted toothpick comes out mostly clean (I wanted these brownies a little on the gooey side).
11. Let brownies cool a bit more in pan before cutting. Or, if you simply can't wait (and I wouldn't judge you if that were the case), go ahead and dig right in. They'll be a little tricky to cut, but in my humble opinion, they're even more delicious when they're warm and soft.