Talk about sweetness overload. I've made smores bars before, and I happen to think the combination of graham cracker, chocolate, and marshmallow is just fantastic. But whereas the smores bars I usually make feature a graham cracker topping and crust, this brownie version takes the concept to an all-new level. In fact, you'd almost be crazy to eat these without a cold glass of milk at your side. Consider yourselves warned.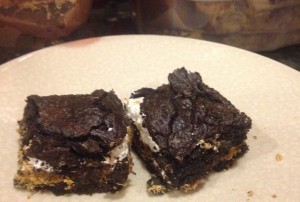 Smores Brownies
Ingredients:
1 stick of butter, melted
1/2 cup granulated sugar
1/2 cup dark brown sugar
1 large egg
1 tsp vanilla
1 cup AP flour
1/4 tsp salt
1/2 cup dark cocoa powder (I used Hershey's Special Dark)
3/4 cup crushed graham crackers
1 and 1/2 cups marshmallow fluff
Method:
Preheat your oven to 350 degrees. Grease an 8×8 baking pan and set aside.
In a large bowl, whisk together the butter, sugars, egg, and vanilla. Set aside.
In a small bowl, combine the flour, salt, and cocoa powder.
Mix the dry ingredients into the wet until well-combined.
Pour half of the batter into your prepared pan.
Sprinkle the graham cracker crumbs on top of the brownie layer. Then, use a spoon or spatula coated with cooking spray to spread the marshmallow fluff on top of the graham layer.
Spread the remaining brownie batter on top.
Bake for 30-35 minutes, or until an inserted toothpick comes out clean. Let the brownies cool in the pan for at least an hour before slicing and serving.