More often than not, I tend to forego traditional cookies in favor of cookie bars. I just find that they're quicker and easier to make, store, and transport. But as yummy as my bars tend to be, there's just something about that classic cookie shape that screams "holiday season" to me. So in the spirit of wanting to spread some joy around the office this week, I brought in a batch of sugar cookies with chocolate chips.
As far as cookie recipes go, this one couldn't be simpler. It's your basic sugar cookie flavored with vanilla and studded with festive holiday chocolate chips (if you can't find the red and green chips in the supermarket, you could always use regular chips or red and green M&Ms instead). Also, chilling the dough in the fridge is optional, but recommended. I know some people don't like having to chill dough because it makes the process take longer, but I found that a quick 10-minute chill was all it took to get this last batch just right.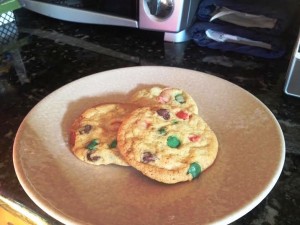 Holiday Chocolate Chip Sugar Cookies
Ingredients:
1 and 1/2 cups AP flour
1/2 tsp baking soda
1/4 tsp baking powder
1/8 tsp salt
1/2 cup butter
3/4 cup granulated sugar
1 egg
1 tsp vanilla
1 and 1/2 cups chocolate chips
Method:
Preheat your oven to 375 degrees.
In a medium bowl, cream together the butter and sugar until light and fluffy. Beat in the egg, and then stir in the vanilla.
In a separate bowl, whisk together the four, baking soda, baking powder, and salt. Gently stir the dry ingredients into the wet until well-combined. Then, stir in chocolate chips.
Refrigerate dough for 10-15 minutes. In the meantime, prepare several baking sheets.
Remove the dough from the fridge and use your hands to form small rounded discs. Be sure to leave enough space for the cookies to spread.
Bake for 10-12 minutes, until the edges begin to turn golden. Let the cookies cool on their sheets for a minute or two before transferring to wire racks to cool completely.
Note: This recipe makes about 2 and 1/2 dozen cookies but can pretty easily be doubled if you're feeding a larger crowd. These cookies will keep for a good 4-5 days if stored at room temperature in an airtight container.