At some point I do realize this pumpkin fixation is going to have to start. After all, the holidays are almost here, at which point I may have to shift my attention toward my beloved peppermint bark. But until then, I will continue to be all about the pumpkin.
These pumpkin bars are super moist and very dense. One of the things I like about them is that they're not super sweet – you can eat them for breakfast and not feel like you're starting your day off with junk food. At the same time, if you prefer a sweeter bar, it's easy enough to kick up the sugar factor by adding more white chocolate chips, and well, more sugar. Best of all, these bars are super easy to prepare, so if you're short on time, as I tend to be, they're a good snack to quickly throw together.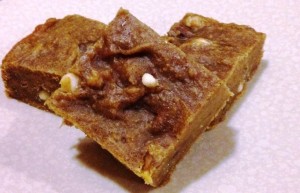 Pecan Pumpkin Bars
Ingredients:
1 and 1/4 cups AP flour
1 and 1/2 tsp cinnamon
1/2 tsp nutmeg
1/2 tsp ginger
1/4 tsp salt
1/2 cup butter, melted and cooled to room temp
1/2 cup dark brown sugar
1/4 cup granulated sugar
1 egg
1 and 1/2 tsp vanilla
1 cup pumpkin puree
1 cup toasted pecans, chopped
1/3 cup white chocolate chips
Method:
Preheat your oven to 350 degrees. Grease an 8×8 baking pan and set aside.
In a small bowl, whisk together the flour, spices, and salt. Set aside.
In a large bowl, whisk together the melted butter and sugars until well-combined. Beat in the egg.
Whisk in the vanilla and pumpkin until well-incorporated.
Stir in the flour mixture until well-combined. Then, stir in the pecans and white chocolate chips, reserving a few to sprinkle on top if desired.
Pour the batter into your prepared pan and bake for about 35 minutes, or until an inserted toothpick comes out clean.
Let the bars cool in the pan for at least 2 hours before slicing and serving.