In my household, the colder the weather, the more frequently baked goods tend to come out of my kitchen. For a recent gathering, I whipped up these seven layer bars in addition to a host of pumpkin treats. In fact, I specifically made these so that the non-pumpkin fans in the group (blasphemy) would have something to snack on.
There are many different recipes out there for seven layer bars, and mine is probably a little different than most of the ones you'll see.  I've actually done the more "classic" seven layer bar in the past and specifically wanted to try something different this time around. I think the chocolate and gingerbread crust gives these bars more of a holiday/wintertime feel. If you really want to make things interesting, you could substitute the butterscotch chips with cinnamon chips. Or, use both and call them eight layer bars.
Although these bars are quite tasty, they're also really, really sweet. I can only eat a small piece at a time, which is saying a lot. But if you're looking for a fun, easy recipe to try, go ahead and give this one a shot.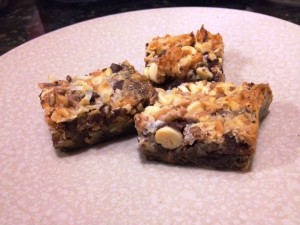 Seven Layer Bars
Ingredients:
1 cup chocolate graham cracker crumbs
1/2 cup gingerbread cookie crumbs
1 stick of butter, melted
1 can (14 ounces) of sweetened condensed milk, divided
1 cup chopped walnuts nuts
1 cup butterscotch chips
1 cup semisweet chocolate chips
1 cup white chocolate chips
1 cup sweetened coconut, toasted
Method:
Preheat your oven to 350 degrees. Line a 9×13 baking pan with parchment paper and set aside.
In a small bowl, combine the melted butter with the chocolate graham cracker and gingerbread cookie crumbs. Press the crumb mixture into the bottom of your prepared pan.
Pour 1/3 cup of condensed milk over the crumb mixture, using a spatula to spread it evenly.
Sprinkle the chopped walnuts on top of the soaked crumb mixture. Then, add the butterscotch, semisweet, and white chocolate chips in layers one at a time.
Spread the toasted coconut on top of the chocolate chips.
Pour the remaining condensed milk over the entire mixture.
Bake for 25-30 minutes, or until the top is slightly browned.
Cool the bars in the pan completely (at least two hours) before slicing and serving.