Have you tried Avalanche Bark yet? In case you're not familiar with it, Avalanche Bark is a concoction that comes to us courtesy of the tasty and wonderful Rocky Mountain Chocolate Factory. A year or so ago, I stumbled upon a recipe for it on one of my favorite baking blogs, and I've been making my version of it ever since.
The best way to describe this creation is a jacked-up Rice Krispies treat. If you like those, you're pretty much guaranteed to love Avalanche Bark. And the recipe itself couldn't be easier. The only problem is that I sometimes have trouble cutting these into nicely formed squares – which is why I decided to improvise when my last batch came apart on me a lot during the portioning process. So half of my Avalanche Bark became Avalanche Balls. And you know what? That really didn't end up being a problem.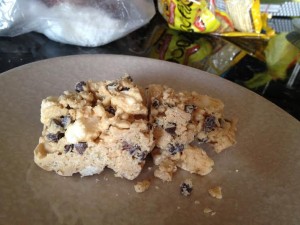 Avalanche Bark
Recipe from Brown Eyed Baker
Ingredients:
12 ounces white chocolate, finely chopped
1/2 cup smooth peanut butter
1 and 1/2 cups Rice Krispies
1 and 1/2 cups miniature marshmallows
1/2 cup miniature chocolate chips
Method:
Line an 8×8 baking pan with parchment paper and set aside. Place the miniature chocolate chips on a plate and store in the freezer until ready to use.
Combine the white chocolate and peanut butter in a medium bowl and microwave on 50% power in 30-second increments, stirring after each zap, until completely melted. Remove from microwave, stir in Rice Krispies, and let the mixture cool for about 15-20 minutes.
Stir in the miniature marshmallows followed by the miniature chocolate chips.
Pour the mixture into your prepared pan and press into an even layer. Refrigerate for 30 minutes, or until set.
Use a very sharp knife to cut into squares. If your mixture comes apart on you, don't worry – just use your fingers to form it into balls and stick your new creations back into the fridge to reset that way.
Store your Avalanche Bark in the fridge in an airtight container. It'll keep for several days if you don't devour it first.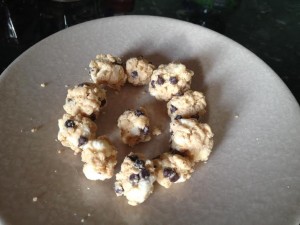 And here's the bite-sized ball version. Part of me almost likes these better. Maybe I'll make them this way on purpose the next time around.