So yeah, clearly I've been making (and, ahem, eating) a lot of holiday candy lately. The latest offering I have to share with you is this delicious white chocolate bark studded with dried cranberries and pistachios. I've seen and tried the white chocolate-cranberry-pistachio combo in everything from candy to cookies to blondies to cake, and it seems to work magically every time. And as is the case with many of my bark recipes, this one is incredibly easy to pull off. If you're looking for a yummy holiday snack to bring to a party, this one is sure to enhance the festivities.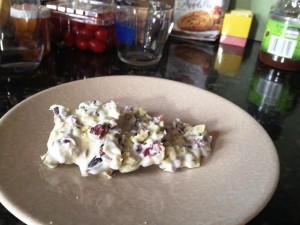 White Chocolate Pistachio Cranberry Bark
Ingredients:
2 cups white chocolate morsels or melting discs
3/4 cup chopped pistachios, plus 1/4 cup for topping
3/4 cup dried cranberries, plus 1/4 cup for topping
Method:
Line a baking sheet with parchment paper and set aside.
Melt the white chocolate using either a double boiler or the microwave at 50% power for 30-second increments. Pay attention to your chocolate and remove it from the heat once it's mostly melted (if needed, use a spoon to stir any remaining lumps until they're totally melted and well-integrated).
Once your chocolate is melted, quickly stir in 3/4 cup pistachios and 3/4 cup dried cranberries.
Pour the chocolate mixture onto the prepared baking sheet, using the back of a spoon or a spatula to spread it evenly.
Sprinkle the remaining 1/4 cup pistachios and 1/4 cup dried cranberries on top.
Place the baking sheet in the fridge and leave for at least one hour to set before breaking into pieces.