Okay folks, we're just about reaching that point where even I'm ready to give the pumpkin thing a rest. This year I think I made almost every pumpkin treat imaginable, not to mention the many savory pumpkin dishes I've whipped up but haven't written about.
Now when I say I'll be taking a break from pumpkin, in reality we may be talking a week or two, tops. But still, to avoid separation anxiety, I decided to make one more batch of pumpkin deliciousness, this time in the form of butterscotch blondies.
As is the case with most blondie recipes, this one is really easy to put together, and it's also a great way to use up any leftover canned pumpkin you might have. Unlike the pumpkin pecan bars I made a little while back, these blondies are much sweeter and definitely less suitable for breakfast (though I of course wouldn't judge you if you were to have them with your morning coffee). And if you're not a fan of butterscotch, you could easily substitute chocolate chips or even cinnamon chips, which are a little harder to find but work really well with the pumpkin base.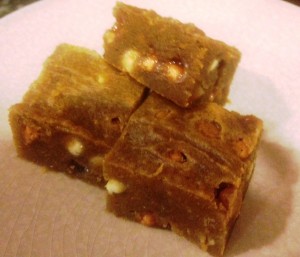 Pumpkin Butterscotch Blondies
Ingredients:
1 and 1/4 cups AP flour
1 and 1/2 tsp cinnamon
1/2 tsp nutmeg
1/2 tsp ginger
1/4 tsp salt
1/2 cup butter, melted and cooled to room temp
1/2 cup dark brown sugar
1/4 cup granulated sugar
1 egg
2 tsp vanilla
1 cup pumpkin puree
1 cup butterscotch chips
1/2 cup white chocolate chips
Method:
Preheat your oven to 350 degrees. Grease an 8×8 baking pan and set aside.
In a small bowl, whisk together the flour, spices, and salt. Set aside.
In a large bowl, whisk together the melted butter and sugars until well-combined. Beat in the egg.
Whisk in the vanilla and pumpkin until well-incorporated.
Stir in the flour mixture until well-combined. Then, stir in the butterscotch and white chocolate chips, reserving a few to sprinkle on top.
Pour the batter into your prepared pan and bake for about 35 minutes, or until an inserted toothpick comes out clean.
Let the bars cool in the pan for at least 2 hours before slicing and serving.