Fall is finally here. I mean, technically it's been here for awhile, but this past week, the weather got much cooler, the leaves all around me completely changed color, and the idea of planning my Thanksgiving menu suddenly didn't seem so silly. And so to celebrate the more in-your-face version of fall that I've come to love, I decided to whip up this easy recipe for pumpkin butterscotch bread.
Now I've had different versions of pumpkin bread, some much sweeter than others. And of course I love them all. This particular recipe makes a sweeter, dessert-type of bread. You can thank the butterscotch flavor for that.
I happen to really enjoy the combination of pumpkin and butterscotch, but if you're not a fan, you can easily swap out the butterscotch chips for semisweet chocolate, dark chocolate, cinnamon, or even white chocolate. Or, you can omit the chips completely and just enjoy the pumpkin flavor on its own.
Whatever you decide to do, just make sure to add pumpkin bread to your list of fall baking musts. With a recipe this easy and quick, you'd be silly to miss out.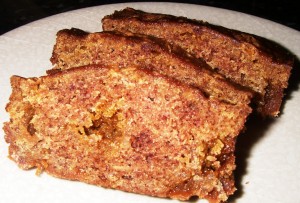 Pumpkin Butterscotch Bread
Ingredients:
1 cup AP flour
1/2 tsp baking soa
1/4 tsp salt
1 tsp cinnamon
1/2 tsp nutmeg
1 large egg
3/4 cup granulated sugar
1/4 cup water
1/4 cup vegetable oil
1/2 tsp vanilla
1/2 cup packed pumpkin puree (canned or fresh)
3/4 cup butterscotch chips
Method:
Preheat your oven to 350 degrees. Grease a 9×5 loaf pan and set aside.
In a small bowl, whisk together the flour, baking soda, salt, and spices.
In a large bowl, beat the eggs, and then whisk together with the sugar, oil, water, pumpkin, and vanilla.
Stir in the flour mixture until well-combined.
Stir in the butterscotch chips, mixing well.
Pour the batter into your prepared pan and bake for one hour, or until an inserted toothpick comes out clean.
Let the bread cool in its pan for at least an hour before cutting and serving.