Pumpkin bread is one of my favorite fall treats, and I especially love it because it's a) quick and easy to make, and b) so adaptable to a variety of additional flavors. Case in point: this awesome Nutella-swirled version. I basically just took the recipe I used for my pumpkin butterscotch bread, threw in some Nutella, and let the combination do its magic. The result? A moist, yummy version of a classic. Now if only I could pry myself away from the pan and stop eating this stuff by the plateful…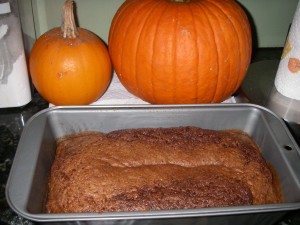 Pumpkin Nutella Bread
Ingredients:
1 cup AP flour
1/2 tsp baking soa
1/4 tsp salt
1 tsp cinnamon
1/2 tsp nutmeg
1 large egg
3/4 cup granulated sugar
1/4 cup water
1/4 cup vegetable oil
1/2 tsp vanilla
1/2 cup packed pumpkin puree (canned or fresh)
1/3 cup Nutella
Method:
Preheat your oven to 350 degrees. Grease a 9×5 loaf pan and set aside.
In a small bowl, whisk together the flour, baking soda, salt, and spices.
In a large bowl, beat the eggs, and then whisk together with the sugar, oil, water, pumpkin, and vanilla.
Stir in the flour mixture until well-combined.
Pour the batter into your prepared pan and then add in the Nutella. Use a knife or the back of a spoon to swirl it around.
Bake the bread for one hour, or until an inserted toothpick comes out clean.
Let the bread cool in its pan for at least an hour before cutting and serving.