So here we go again…my love affair with apples continues. In fact, I actually went apple picking yet again this past weekend and gathered up a bunch of awesome varieties to add to my collection.
It's a good thing there are so many great ways to incorporate apples into baking. This time, I decided to whip up some apple walnut date bread. This recipe is actually based on the one I used for the pear bread I recently made (in other words, it's super easy).
What I like about this bread is that it's just sweet enough to border on cake, but not too sweet. You can have it for breakfast or serve it as a side dish for dinner, and you won't go wrong either way. Personally, I could eat this stuff any time of day, but I especially like it alongside a nice cup of coffee.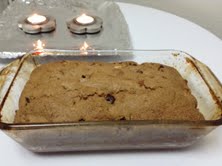 Apple Walnut Date Bread
Recipe adapted from Bake or Break
Ingredients:
3 cups AP flour
3/4 teaspoon baking soda
1/4 teaspoon baking powder
1 teaspoon salt
1 and 1/2 tablespoons ground cinnamon
1 cup chopped walnuts
3/4 cup vegetable oil
3 large eggs
2 cups granulated sugar
2 cups peeled and diced apples
1 cup chopped dates
2 teaspoons vanilla
Method:
Preheat your oven to 350 degrees. Lightly grease and flour a two 9×5 loaf pans.
Mix together the flour, baking soda, baking powder, salt, and cinnamon.
In a separate bowl, whisk together the oil, eggs, sugar, apples, dates, walnuts, and vanilla. Add the wet mixture to the flour mixture until well-incorporated.
Pour the batter into your prepared pans and bake for 60-65 minutes, or until an inserted toothpick comes out clean.
Cool completely before cutting and serving.