I like my job. I really do. But what I don't like about my job is the fact that people tend to wait till the very last possible minute to ask me for things.
Now normally I pride myself on having a pretty good work ethic and going out of my way to be helpful. And I'm definitely not the type of person to put things off till the following day if there's any chance of getting the job done on the spot. But when you email me at the very last second asking for something that will take at least 30 minutes of my time, you're putting me in a position where I might be late picking up my child from daycare. And being late to daycare is bad for a lot of reasons, not the least of which is the fact that you actually get charged by the minute for not showing up on time.
A few weeks ago, I almost didn't make it to the center on time. In fact, the only reason I got there about a minute shy of closing is that I was more than a little bit liberal with some of our local traffic laws. And why was I rushing in the first place? Oh yeah, because someone needed something from me at the very last possible minute, kind of like what happened last night.
Okay, rant over. I'm sure I'm not the only working person who goes through this, right?
Anyway, moving on…let's talk about these yummy chocolate crumb bars. I decided to bake something for my coworkers—not the ones who cause me stress and aggravation by demanding things at the last minute, but rather the ones I actually like. These bars are really tasty and relatively simple to whip up. The original recipe didn't include butterscotch chips, but I'm a big fan of the chocolate-butterscotch flavor combo and decided to mix things up a bit. I like the fact that these bars get nice and gooey in the center. They're a great snack to have on hand or share with people you like. You can also keep some in your car in case you get pulled over by a local police officer wanting to know why you were going 50 in a 30 mile per hour zone and you need some sort of impromptu bribe. (For the record, I didn't actually get pulled over en route to daycare. But it could've happened. Multiple times over. Thank you, procrastinating coworkers. Okay, maybe my rant wasn't quite over.)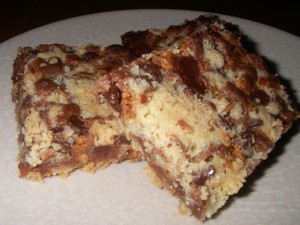 Chocolate Butterscotch Crumb Bars
Original recipe can be found here
Ingredients:
1 cup (2 sticks) of butter, softened
1 and 3/4 cups AP flour
1/2 cup granulated sugar
1/4 teaspoon salt
1 cup of semisweet chocolate chips, divided
1 cup of butterscotch chips, divided
1 can (14 oz) of sweetened condensed milk
1 teaspoon vanilla extract
Method:
1. Preheat your oven to 350 degrees. Grease a 13 x 9-inch baking pan.
2. Beat the butter in a large mixing bowl or in a stand mixer until creamy. Mix in the flour, sugar, and salt until crumbly.
3. With or floured or greased fingers (I sometimes spray a bit of cooking spray onto my fingers), press 2 cups of the crumb mixture into the bottom of your prepared baking pan; reserve remaining mixture for topping.
4. Bake for 10-12 minutes, or until the edges are golden brown.
5. While the mixture is baking, combine 1/2 cup semisweet chips, 1/2 cup butterscotch chips, and condensed milk in a small saucepan.
6. Warm over low heat, stirring until smooth. Stir in vanilla extract. Spread over hot crust.
7. Stir remaining chips into reserved crumb mixture and use your hands to sprinkle over chocolate filling.
8. Bake for 25-30 minutes, or until center is set.
9. Cool in pan on wire rack before cutting into bars.