Ever meet one of those people who claims he or she doesn't like sweets? That's exactly the type of story a friend of mine tried to stick to recently when I offered her a piece of my latest concoction.
"No thanks," she had answered. "You know me; I don't really go for sweets."
My response? "Um, okay, more for me then."
And so I proceeded to help myself to a piece (or three) of candy as we sat in my living room chatting, and at some point during the conversation, she suddenly had a change of heart and decided she wanted a taste. I of course obliged, and 10 minutes later, I found myself prying the plate of confections out of her hands for fear that Miss I Don't Like Sweets would singlehandedly devour my entire supply in a single sitting (or at least that's the scenario that played out in my head…in reality, all I could do was sit there and watch in horror as she took down piece after piece).
Anyway, the fact that my adamantly anti-sweets visitor couldn't stop herself from eating this candy is a testament to how good it is. And the best part about this concoction is that it's so incredibly easy to make. Just toast some coconut, mix in some melted chocolate, and wait (not so) patiently as it sets in the fridge. Then bust it out and get ready to convert even the biggest non-believers in all things sugary sweet.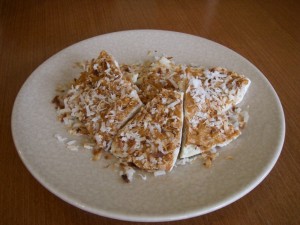 White Chocolate Coconut Butterscotch Bark
Ingredients:
2 cups sweetened coconut, toasted and divided into 4 equal parts
1 and ½ cups white chocolate
1 cup butterscotch chips
Method:
1. Line a baking sheet with parchment paper; set aside.
2. Toast coconut in the oven or microwave; set aside.
3. Heat the white chocolate in the microwave at 50% power for 30-second intervals, stirring in between. Once melted, stir ¼ of the toasted coconut into the chocolate. Pour the mixture onto the prepared baking sheet and use an offset spatula to spread it around. Top with ¼ of the coconut.
4. Heat the butterscotch chips in the microwave using the method described above. Once melted, stir in ¼ of the coconut. Pour over the white chocolate and coconut layers and use a spoon to swirl it around. Top with remaining coconut and let set in the fridge for 1-2 hours. Once set, use a sharp knife or your hands to break into pieces.
5. Be careful when offering to friends—your supply may start to dwindle too rapidly for comfort.