Last week, I discovered why it can sometimes be a problem to bake in somebody else's kitchen. I was visiting my mom and decided that in honor of September and the fact that she's awesome, I'd make one of her favorite cakes.
I stumbled upon this recipe several years ago and have been making it every September since then. The cake itself is moist, sweet but not too sweet, and full of so many of the fall flavors I absolutely love. And as an added bonus, when made correctly, it looks absolutely beautiful, especially with the baked apple pieces and walnuts adorning the top.
But as you can see, my most recent version of this cake didn't turn out quite as lovely. And here's why: When you use somebody else's kitchen, you don't always stop to think about how to handle equipment that's different than yours. And whereas I have a tube pan that can be easily lifted from the top, my mom's tube pan is the type where you insert the top into the bottom as sort of a separate, unattached piece.
Do you see where I'm going with this?
No sooner had I assembled a gorgeous, layered version of this fabulous cake when I foolishly decided to grab the tube pan from the top and bring it over to the oven. By doing so, I immediately managed to dislodge the top from the bottom, causing cake batter to spill rapidly out of the bottom of the pan and all over my mom's countertop.
As you can imagine, I was not happy. But my mom, who's a much sport than I am about these things, had a great idea: Instead of throwing out the spilled batter (which, by the way, constituted at least half the cake), wasting all those ingredients, and starting over from scratch, why not scoop it up, throw it into a 9×13 pan, and bake it as a non-layered, less pretty apple coffee cake?
The stubborn part of me initially tried to protest. After all, I wanted my cake in its original form, and I wanted to serve it to my mom the way she was used to having it. But not only is my mom a much better sport than I am, she can also be far more practical. And after spending several minutes consoling me (you know, her adult daughter who's a mama herself and who was basically bordering on crying over spilled batter) and assuring me that this less spectacular version of the cake would no doubt turn out equally delicious, I agreed to proceed with Operation Cake Salvage.
And so we scooped up the spilled batter, dumped everything into a rectangular cake pan, and hoped for the best. And sure enough, the cake tasted incredible—moist, sweet but not too sweet, and full of the fall flavors that make it a winner, even when disaster strikes. And although I still recommend baking it in a tube pan as the original recipe suggests, if you don't have one, you could always do what I did and make a less pretty but equally yummy version.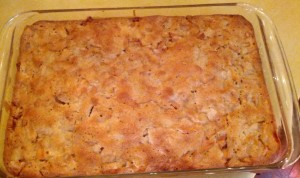 Apple Walnut Coffee Cake
Original recipe from Smitten Kitchen
Ingredients:
6 apples (the original recipe calls for McIntosh apples; I used Cortland and Gala this time around but have used McIntosh in the past)
1 tablespoon cinnamon
5 tablespoons sugar
2 3/4 cups flour, sifted
1 tablespoon baking powder
1 teaspoon salt
1 cup vegetable oil
2 cups sugar
1/4 cup orange juice
2 1/2 teaspoons vanilla
4 eggs
1 cup walnuts, chopped
Method:
1. Preheat oven to 350 degrees. Grease a tube (or 9 x 13 baking) pan. Peel, core and chop apples into chunks. Toss with cinnamon and sugar and set aside.
2. Stir together flour, baking powder and salt in a large mixing bowl. In a separate bowl, whisk together oil, orange juice, sugar and vanilla. Mix wet ingredients into the dry ones, then add eggs, one at a time. Scrape down the bowl to ensure all ingredients are incorporated.
3. Pour half of batter into prepared pan. Spread half of apples over it. Pour the remaining batter over the apples and arrange the remaining apples on top. Bake for about 1 1/2 hours, or until a tester comes out clean.