When it comes to fall (or early/pre-fall) baking, I'm usually all about the apples. But at the same time, I also like to mix it up a little. Since I hadn't done anything with coconut for awhile, I decided to whip up a batch of coconut chocolate chip blondies.
This recipe is incredibly tasty and incredibly easy. You don't need to bust out any fancy tools or spend more than 10-15 minutes putting these blondies together. Just have a couple of mixing bowls and spoons on hand, and you'll be all set.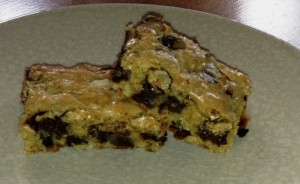 Coconut Chocolate Chip Blondies
Recipe from Brown Eyed Baker
Ingredients:
1 cup AP flour
1/8 tsp salt
4 ounces unsalted butter, melted and cooled to room temperature
1 cup light brown sugar
1 large egg
1 and 1/2 tsp vanilla
1 cup sweetened flaked coconut
1 cup chocolate chips
Method:
1. Preheat your oven to 350°F. Grease and flour an 8×8 baking pan.
2. Combine the flour and salt; set aside.
3. Stir together the melted butter and brown sugar until smooth; beat in the egg and vanilla extract until well-blended.
4. Slowly beat in the flour mixture until blended; then stir in the coconut and chocolate chips.
5. Pour the batter into the prepared pan; use a rubber spatula (or the back of a spoon you're already using if you're feeling lazy, which is perfectly okay) to smooth the top.
6. Bake for 25-30 minutes, or until set in the center but still soft. Cool completely (at least one hour, but two would be better) before cutting and serving.