Looking for a fun and simple kid-friendly recipe? These gooey chocolate chip cookie bars easily fit the bill.
The great thing about this recipe is that it gives you a huge batch of cookie bars with minimal work. If you have a stand mixer, the dough is really a snap. And because these babies are really sweet, you can cut them into small pieces and serve a decent-sized crowd.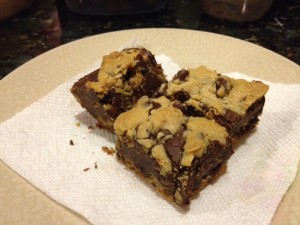 Gooey Chocolate Chip Cookie Bars
Recipe from RecipeGirl
Ingredients:
For the filling:
2 cups semi-sweet chocolate chips
One 14-ounce can sweetened condensed milk
2 teaspoons vanilla extract
For the cookie dough:
1 cup (2 sticks) unsalted butter, at room temperature
1 cup light brown sugar
1/2 cup granulated white sugar
1 large egg
1 large egg yolk
1 tablespoon vanilla extract
2 cups all-purpose flour
1 cup quick-cooking or old-fashioned rolled oats
1 teaspoon baking powder
1 teaspoon baking soda
1 teaspoon kosher salt
3 cups semi-sweet chocolate chips
Method:
Preheat your oven to 350 degrees. Lightly butter a 9×13-inch pan with parchment paper, allowing enough overhang to lift the bars from the pan.
Prepare the filling by placing the chocolate chips and condensed milk in a small saucepan over the lowest possible heat. Cook for about 5 minutes, stirring constantly, until the chocolate has melted and the mixture has thickened. Turn off the heat, add the vanilla, and stir until smooth. Set aside to cool to room temperature.
Prepare the cookie dough by combining the butter and sugars in a large bowl. Beat with an electric mixer until smooth and creamy. Add the egg, egg yolk and vanilla, and beat well.
Whisk together the flour, oats, baking powder, baking soda and salt in a medium bowl. Add to the butter mixture and beat until well-incorporated, scraping down the sides of the bowl as needed. Stir in chocolate chips.
Pour half of the cookie dough into your prepared pan. Pour the cooled chocolate mixture over the dough and then add small dollops of the remaining cookie dough on top. Don't worry if the dollops don't completely cover the chocolate mixture; just spread it together as much as you can, and let some chocolate peek through.
Bake for about 25 minutes, at which point the tops should be lightly browned. (The toothpick method won't really work here because the gooey chocolate layer will still come out pretty runny even once the bars are done.)
Let the bars cool for at least two hours before cutting and serving. I recommend sticking them in the fridge for 30 minutes or so – they'll be much easier to slice that way.