Something wonderful but dangerous happened last week: My Girls Scouts cookies were delivered. This means that for the past five days or so, I've been stuffing my face with Thin Mints and Samoas galore—to the point where I decided I need to take a break from my boxed delights and add a new kind of cookie to the mix.
I decided to make these coconut carrot cookies, and I'm really glad I did. The cookies have a moist, almost cake-like consistency, and since they're not overly sweet, you can easily get away with eating them for breakfast. (Try doing that with Girls Scouts cookies—somehow it's just harder to get away with.)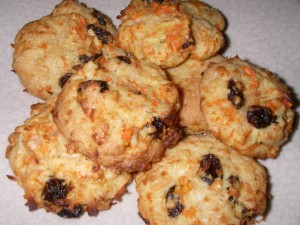 Coconut Carrot Cookies
Recipe from Needful Things
Ingredients:
2 cups AP flour
1 tsp baking powder
1/2 tsp salt
1 tsp ground ginger
1/4 teaspoon nutmeg
1.5 sticks (12 tablespoons) unsalted butter, at room temperature
2/3 cup granulated sugar
1/3 cup light brown sugar
1 large egg
1/2 tsp vanilla
1 cup shredded carrots
1 cup sweetened shredded coconut
1 cup raisins (dark or golden)
1/2 cup chopped pecans, preferably toasted (I left these out to keep the cookies nut-free and didn't miss them)
Method:
1. Preheat your oven to 375 degrees. Line 3-4 baking sheets with parchment.
2. Whisk together the flour, baking powder, salt, ginger, and nutmeg. Set aside.
3. Beat the butter on medium speed until it gets smooth and creamy. Add the sugars and beat on medium for 2 minutes; then add the egg and beat for another minute.
4. Reduce your mixer speed to low and beat in the vanilla.
5. Continuing on low speed, add the dry ingredients in 2-3 batches. Beat only till they just disappear into the mix.
6. Mix in the carrots, coconut, raisins, and pecans.
7. Spoon the dough onto baking sheets in heaped tablespoonfuls, leaving an inch of space between them. (I found that these didn't spread very much.)
8. Bake for 16-18 minutes until the cookies are light brown and just firm on top.
9. Let cookies cool on a wire rack.