I've said it before, and I'll say it again: I just love the simplicity of blondies. They come together so quickly and without all the hassle involved in digging out your fancy kitchen tools. And they're so versatile – you can take a blondie recipe you've used before and transform it just by altering a few of the ingredients. That's what I did with my latest batch anyway.
These blondies are very similar to the coconut M&M blondies I made back in November, only the addition of Almond Joy Pieces really amps up that coconut flavor. I love the chewy texture you get from the coconut, and the Almond Joy pieces just make these bars look fun and festive. Coconut fans, stop what you're doing and go make yourselves some blondies. You can thank me later.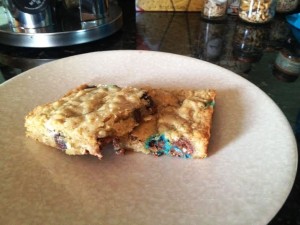 Coconut Almond Joy Blondies
Recipe from RecipeGirl
Ingredients:
10 tablespoons unsalted butter, melted and cooled to room temp
1 cup packed dark brown sugar
1/4 cup granulated white sugar
1 large egg
2 teaspoons vanilla extract
1/4 teaspoon kosher salt
1 1/4 cups all-purpose flour
1 1/4 cups sweetened flaked coconut
1 cup Almond Joy Pieces
1/2 cup semisweet chocolate chips
Method:
Preheat your oven to 350 degrees. Spray an 8×8-inch pan with nonstick spray and then line the bottom with parchment paper.
In a large mixing bowl, combine the butter and sugars.
Stir in the egg, vanilla, and salt.
Stir in flour, coconut, Almond Joy Pieces, and chocolate chips until well-combined.
Pour the batter into the prepared pan and smooth the top with a rubber spatula.
Bake for 25 to 30 minutes, or until an inserted toothpick comes out clean.
Let the blondies cool completely in the pan before turning them out onto a cutting board and cutting into squares.