Now that we're deep into the holiday season, I find myself gravitating toward flavors like gingerbread and cinnamon. So when I found myself craving blondies ('cause, you know, it had been a whole day or so since I'd had one), I decided to put a cinnamon-infused spin on a classic recipe.
These blondies are among the best I've ever eaten. You heard me correctly. I just love the simplicity of the cinnamon flavor, and the while chocolate adds a touch of (but not too much) sweetness. And the best part? These blondies are super easy to throw together. You don't need any fancy tools – just a couple of bowls, a whisk, a spoon, and some willpower, 'cause let me tell you, while these babies are baking, your kitchen will smell fantastic.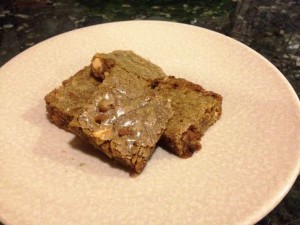 Cinnamon Blondies
Ingredients:
1/2 cup (1 stick) unsalted butter, melted and cooled to room temp
1 cup dark brown sugar
1 large egg
2 tsp vanilla
1 cup AP flour
1/4 tsp salt
1 and 1/2 tsp cinnamon
1/4 tsp nutmeg
1 cup cinnamon baking chips (Hershey's makes these)
1/2 cup white chocolate chips
Method:
Preheat your oven to 350 degrees. Grease an 8×8 baking pan and set aside.
In a medium bowl, whisk together the melted butter, brown sugar, and egg. Stir in the vanilla.
In a separate bowl, combine the flour, salt, cinnamon, and nutmeg.
Stir the dry ingredients into the wet until well-combined. Stir in cinnamon and white chocolate chips, reserving a small amount of each to sprinkle on top if desired.
Bake for 28-32 minutes, or until an inserted toothpick comes out clean. Let the blondies cool in the pan (at least one hour) before slicing and serving.