I've been kind of bad about posting stuff lately – we can thank my new work schedule for that. But believe it or not, I have been doing a fair amount of baking. And eating, of course. In fact, I devoured more of these blondies than I'd like to admit, but they were really just so darn good I couldn't resist.
One of my favorite things about blondies is the fact that they're so versatile. So when I found myself having trouble deciding what type of blondies to make for an impromptu get-together, I decided to simply cram a whole bunch of different flavors into a gooey, buttery base. The result? Another fabulous batch of treats.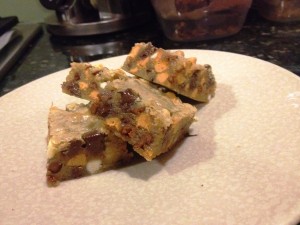 Everything Blondies
Ingredients:
1/2 cup (1 stick) unsalted butter, melted and cooled to room temp
1 cup light brown sugar
1 large egg
2 tsp vanilla
1 cup AP flour
1/4 tsp salt
2/3 cup butterscotch chips
2/3 cup white chocolate chips
2/3 cup cinnamon chips
2/3 cup semisweet chocolate chips
Method:
Preheat your oven to 350 degrees. Grease an 8×8 baking pan and set aside.
In a medium bowl, whisk together the melted butter, brown sugar, and egg. Stir in the vanilla.
In a separate bowl, combine the flour and salt.
Stir the dry ingredients into the wet until well-combined. Stir in the various chocolate chips, reserving a small amount of each to sprinkle on top if desired.
Bake for 28-32 minutes, or until an inserted toothpick comes out clean. Let the blondies cool in the pan (at least one hour) before slicing and serving.