The other day, I was in the mood for something a little different. And I had various containers of dried fruit in my pantry that I really wanted to use up, 'cause, um, yeah, I needed to clear some space to accommodate my latest Costco run. (Ever been to Costco? That place is wonderful and evil at the same time—especially because whenever I go there, I just seem to get into this mode where I start thinking "yes, it is a good idea to buy three different types of chocolate chips in bulk.") Anyway, the dried fruit (among other things) had to go, so I took the opportunity to tackle a recipe I'd seen awhile back.
This cake is really more like a giant granola bar. And I'll warn that it's fairly dense—you need a pretty solid knife to cut through it. But it's also super tasty, and incredibly quick and easy to make. The most time-consuming part was chopping up all the dried fruit, and even that only took a few minutes. And the result was an interesting concoction that I'll happily be eating all week long.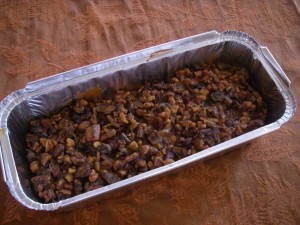 Dried Fruit and Nut Cake
Recipe from David Leibowitz

Ingredients:
7 tablespoons AP flour
7 tablespoons granulated sugar
3 large eggs
1/2 teaspoon ground cinnamon
1/4 teaspoon ground nutmeg (I like nutmeg, so I used a bit more, but not quite a half teaspoon)
1/8 teaspoon ground cardamom
Pinch of ground cloves (I omitted this)
Pinch of salt
1 and 1/2 cups of chopped up dried fruit (I used dried cranberries, apricots, dates, and prunes)
1 and 1/2 cups of chopped nuts, lightly toasted (I used walnuts and pecans)
Method:
1. Preheat your oven to 300 degrees. Grease a 9-inch loaf pan.
2. Mix the flour, sugar, eggs, salt, and spices in a large bowl.
3. Stir in the dried fruits and nuts.
4. Pour the mixture into the prepared pan and bake for 90 minutes. Cool the cake in its pan. When ready to slice, you'll definitely want to bust out the cutting board and a sharp knife.