I'll admit it: Sometimes I like eating sweets for breakfast. I think that's called being human. At the same time, I don't like my breakfast sweets to be too sweet (in other words, you usually won't find me chowing down on a heavily iced chocolate fudge cupcake along with my morning coffee). So when I found myself craving a breakfast treat the other day, I decided to try a recipe that I'd recently seen on one of my favorite baking blogs.
Although you could serve this oatmeal chocolate chip bread after dinner or as an afternoon snack, to me, it's just perfect for breakfast. The chocolate chips add just the right amount of sweetness, and the dense yet moist nature of the bread makes it perfect for dipping in coffee (confession: I'm a bit of a serial dunker). Best of all, it's really a cinch to make, and if you have any left over, it'll probably keep for the better part of a week as long as you keep it tightly wrapped.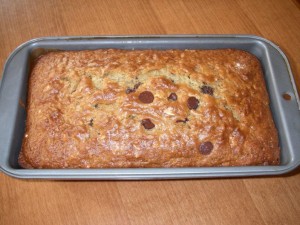 Oatmeal Chocolate Chip Bread
Recipe from Bake or Break
Ingredients:
2 cups AP flour
1 cup rolled oats
1/2 cup granulated sugar
1/2 cup packed light brown sugar
2 teaspoons baking powder
1 teaspoon baking soda
1/2 teaspoon ground cinnamon
1/2 teaspoon salt
1/2 cup chopped pecans
1/2 cup semisweet chocolate chips
1 and 1/2 cups buttermilk
2 large eggs
1/4 cup butter, melted and cooled to room temp
Method:
Preheat your oven to 350 degrees. Generously grease a 9×5 loaf pan with cooking spray.
In a large bowl, mix together the flour, oats, sugars, baking powder, baking soda, cinnamon, and salt. Stir in pecans and chocolate chips.
In a separate bowl, whisk together the buttermilk, eggs, and butter. Stir into dry ingredients just until-combined. Your batter may be a little lumpy, and that's fine.
Pour your batter into the prepared pan and bake for 50-55 minutes, or until an inserted toothpick comes out clean.
Let the bread cool in its pan for at least an hour before slicing and serving.