We've had a bit of a heat wave lately here in New Jersey. And for the record, I knew this was going to happen. See, most years we get at least a little taste of that wonderful season called "spring." You know, when the sun comes out and the temps are warm enough for you to walk around outside in a t-shirt without being too hot or too cold. Well, this year we basically had cold, often-rainy weather up until a couple of days ago. Then it turned hot. Really hot. I'm talking 85-degree, smog in the air hot. It's the type of weather where my naturally curly hair doesn't stand a chance (not that I'm above pulling it back into a bun or slapping a baseball cap on top of my head, but there's just something about massive, uncontrollable humidity-induced frizz that makes my self-esteem take a bit of a hit) and the simple act of walking down the street is enough to make you reach for a Gatorade.
In weather like this, all I ever really want to eat is yogurt, cereal, and ice cream. And the last thing I want to do is slave over a hot stove or even contemplate turning on my oven. But alas, my desire to put something in my stomach other than pure dairy got the better of me, and so I decided to bake up some quick oatmeal bars.
The good thing about this recipe is that it's just about the easiest thing ever. You don't need fancy equipment or a ton of ingredients, and your oven stays on for only a short amount of time. While some people might refer to these babies as oatmeal cookie bars, to me, they're more like candy bars. The only downside to making them smack in the middle of a heat wave is that the tops have a tendency to melt if you're cheap and stubborn like me and refuse to run your air conditioner (though I eventually caved). In fact, you'll definitely want to store these in the fridge, no matter the season. But if you like chewy, chocolate peanut butter candy bars, you'll definitely want to whip up a batch of these. Just be careful offering them up to neighbors, coworkers, and friends—you may be surprised at what little you have left for yourself.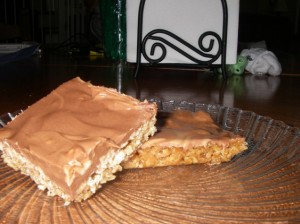 Oatmeal Chocolate Peanut Butter Bars
Ingredients:
For the base:
4 cups of quick-cooking oats
1 cup dark brown sugar
3/4 cup butter, melted
1/2 cup corn syrup
For the topping:
1 cup milk chocolate, chopped (it's okay to use chocolate chips)
1 cup peanut butter
1/2 cup peanuts, chopped
Method:
For the base:
1. Preheat your oven to 350 degrees. Grease a 9×13 pan and set aside. Using a wooden spoon, combine the oats, brown sugar, butter, and corn syrup.
2. Press the mixture into your prepared pan and bake for 10-12 minutes.
3. Allow the base to cool completely (at least 30 minutes) before adding the topping.
For the topping:
1. Combine the chocolate and peanut butter in a small bowl and melt in the microwave at 50% power for 30-second increments, stirring in between each. Once the mixture is smooth, immediately stir in the peanuts and then use an offset spatula to spread the topping over the base.
2. Place the bars in the fridge to set, at least one hour.
Keep these bars stored in the fridge, not at room temp. They happen to taste really good cold, but if you'd prefer them a little warmer and chewier, just take them out about 15-30 minutes before you want to eat them. I don't recommend microwaving them to warm them up, as the topping has a tendency to melt quickly.