Oops. I realized I made these awhile ago but never got around to posting the recipe. Luckily I remembered to take a picture, so better late than never I suppose.
Anyway, I'm a big fan of repurposing easy recipes, especially when they come out tasting delicious. So when I needed something to throw together for an impromptu neighborhood gathering, I decided to revisit the oatmeal raisin bars I made a little while back. This time, however, I decided to forego the raisins in favor of chocolate and cinnamon chips. The end result? Pure magic in every bite.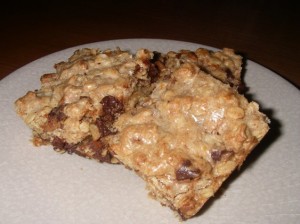 Chocolate Cinnamon Oatmeal Bars
Recipe slightly adapted from Martha Stewart
Ingredients:
3/4 cup (1 1/2 sticks) unsalted butter, melted, plus more for pan
3/4 cup packed light-brown sugar
1/4 cup granulated sugar
1 large egg
1/2 teaspoon salt
1/2 teaspoon ground cinnamon
1 cup AP flour
2 cups old-fashioned rolled oats
1/2 cup semisweet chocolate chips
1/2 cup cinnamon chips
Method:
1. Preheat your oven to 350 degrees.
2. Butter an 8×8 square baking pan. Line the bottom with parchment paper, leaving an overhang on two sides, and butter the paper.
3. In a large bowl, whisk together the butter, sugars, egg, salt, and cinnamon until smooth. Add flour, oats, and chips; fold in just until combined.
4. Spread batter in prepared pan, and bake for 25 to 30 minutes, or until an inserted toothpick comes out clean. Cool completely in pan.
5. Once cool, use the parchment paper to lift the bars onto a work surface for cutting.