My one-year-old's favorite food in the world is mushy bananas and oatmeal. Want to know what my two least favorite foods in the world are? Bananas and oatmeal (not necessarily in that order). I find both unbelievably unappealing.
But despite my distaste for oatmeal in its liquid, mock-breakfast cereal form, I'll be the first to admit that oats and sugar have a way of working wonders in the oven. Case in point: these easy oatmeal raisin bars. They're thicker and chewier than your average oatmeal raisin cookie, which, in my mind, makes them oh so much better. And they take less than 15 minutes to prepare—which is about the time it takes me to wipe the usual post-breakfast oatmeal-banana remnants off the floor, highchair, and baby's face/hands/clothes/body on a regular daily basis.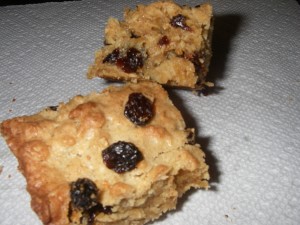 Chewy Oatmeal Raisin Bars
Recipe from Martha Stewart
Ingredients:
1 and ½ sticks of unsalted butter, melted, plus more for the pan
3/4 cup packed light brown sugar
1/4 cup granulated sugar
1 large egg
1/2 teaspoon salt
1/2 teaspoon ground cinnamon
1 cup AP flour
2 cups old-fashioned rolled oats (not quick-cooking)
1 cup raisins
Method:
1. Preheat your oven to 350 degrees.
2. Butter an 8×8 baking pan. Line the bottom with parchment paper, leaving an overhang on two sides; butter the paper as well.
3. Whisk together the butter, white and brown sugars, egg, salt, and cinnamon until smooth.
4. Add flour, oats, and raisins; fold in just until combined.
5. Spread your batter in the prepared pan, and bake for 25-30 minutes, or until a toothpick inserted comes out with only a few moist crumbs.
6. Let the bars cool completely before cutting. You can use the parchment paper to lift them out of the pan easily.