My obsession with sweets can sometimes get out of hand. There are days where I could seriously take down half a dozen sugary frosted cupcakes in a single sitting…and then there are those days where all I want is something mildly sweet to accompany my morning coffee.
I discovered this recipe awhile back and decided to finally give it a try. It was super easy, and the result was a yummy chocolate loaf cake that's perfect for breakfast (in other words, not too sweet). The recipe yields two loaves, so feel free to cut it in half. Or you can do what I did—make one classic chocolate chocolate chip loaf, and use the second half of the batter to get creative. I'll explain.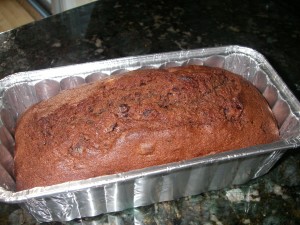 Chocolate Chocolate Chip Bread

From Barbara Bakes
Ingredients:
2 and 1/2 cups AP flour, plus 2 tablespoons
1/2 cup cocoa powder
1/2 teaspoon salt
1 teaspoon baking soda
1/2 teaspoon baking powder
1 cup of softened butter
2 cups of granulated sugar
3 large eggs
2 teaspoons vanilla
1 and 1/2 cups applesauce
1 and 1/2 cup chocolate chips
Optional: 1/3 cup dried cherries, cranberries, peanut butter chips, or anything else you feel like throwing into the mix that goes well with chocolate

Method:
1. Preheat your oven to 350 degrees. Grease two medium loaf pans (I used cooking spray).
2. Mix together the flour, salt, baking soda, and baking powder, and set aside.
3. Using a stand mixer, cream the butter and the sugar until it gets fluffy (about two minutes).
4. Add the eggs one at a time, mixing well after each addition.
5. Add the vanilla and applesauce, and mix until combined.
6. Add the dry ingredients and mix until just combined.
7. Coat the chocolate chips with two tablespoons of flour and stir into the batter.
8. Spoon half of the batter into one of the prepared loaf pans; add your mix-in of choice to the remaining batter, stir, and pour into the second prepared pan.
9. Bake for 55-60 minutes, or until an inserted toothpick comes out clean.