It was my dad's birthday the other day, so I decided to whip up a cake for the occasion. There's only one problem: My dad doesn't eat sugar, or at least he's not supposed to. So in reality, when I say I made this cake for my father, I really mean that I made it for his lovely coworkers, who got to enjoy the majority of it while he limited himself to a couple of small bites.
This isn't the first time I've made this cake, and I have to say, this recipe is really one of my all-time favorites. The cake itself is just really flavorful and moist, so much so that I don't even think it needs the frosting. In fact, as was the case the last time I made it, I wound up with a bunch of extra frosting, which is now sitting in my refrigerator just waiting to be incorporated into a new dessert (there are worse problems to have).
Unfortunately, the photo below really doesn't do this recipe justice, but I wasn't able to get a shot of the cake once it was sliced. The candy corn pieces on top, by the way, are totally optional, and in fact don't do anything other than add a little extra color. I wanted my cake to have a bit of a festive look, but next time around I'll definitely be skipping this step.
If there's one pumpkin dessert recipe you've got to try this season, it's this cake. Believe me, you won't be disappointed.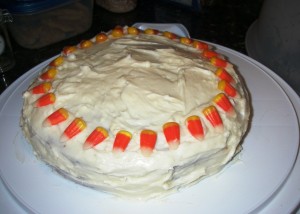 Pumpkin Cake With Maple Cream Cheese Frosting
Recipe from David Leite
Ingredients:
For the cake:
1 stick unsalted butter, at room temperature, plus more for the pans
1 cup firmly packed dark brown sugar
1/3 cup granulated sugar
2 cups cake flour, plus more for the pans
2 teaspoons baking powder
1 teaspoon baking soda
1 teaspoon ground cinnamon
1 teaspoon ground ginger
1/2 teaspoon ground nutmeg
1/8 teaspoon ground cloves
1/2 teaspoon salt
1/4 teaspoon freshly ground black pepper
2 large eggs
1/2 cup buttermilk mixed with 1 teaspoon vanilla
1 1/4 cups canned solid-pack pumpkin
For the maple cream cheese frosting:
Two (8-ounce) packages cream cheese, softened
1 stick unsalted butter, at room temperature
2 cups confectioners sugar
1/4 cup pure maple syrup (if you have the good stuff, bust it out – it'll be worth it)
Method:
Preheat your oven to 350 degrees. Butter two 8-by-2-inch cake pans, line them with parchment circles, butter the parchment, and coat the pans with flour. Tap out the excess.
In a stand mixer, beat the butter and sugars on medium speed until fluffy, about 5 minutes. Meanwhile, sift the flour, baking powder, baking soda, cinnamon, ginger, nutmeg, cloves, salt, and pepper into a medium bowl.
Add the eggs, one at a time, scraping down the sides after each addition.
Alternate adding the flour and milk mixtures, beginning and ending with the flour.
Beat in the pumpkin until smooth.
Divide the batter equally between the pans and bake for 30-40 minutes, or until an inserted toothpick comes out clean.
Cool the pans on racks for 10 minutes, then invert the cakes onto racks and remove the parchment paper to cool completely.
Once the cake has cooled, you can make the frosting. In a stand mixer, beat all the ingredients on medium until fluffy.
Assemble the cake by frosting the top of one cake and then placing the other cake on top and frosting the sides and top.
Refrigerate the cake for 30 minutes to allow the frosting to set.