My mom makes the best cheesecake ever. I mean, I've had good cheesecake, but hers is just outstanding. In fact, my mom's cheesecake is so good that rarely do I find myself motivated to make cheesecake myself. The only thing is that my mom is not the biggest fan of pumpkin, which means if I want pumpkin cheesecake, I either need to buy it or make it myself.
Now some people may find cheesecakes intimidating, but I can assure you that this recipe is really easy to pull off, especially if you own a stand mixer (and even you don't, that's okay – a hand mixer will do). I've actually made this cake several years but have no idea where the recipe came from (my apologies and thanks to whoever came up with it). If you're a fan of both cheesecake and pumpkin, I definitely recommend giving this recipe a shot.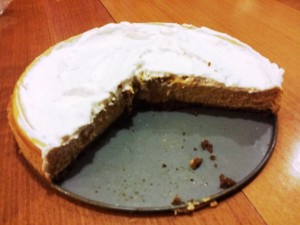 Pumpkin Cheesecake
Ingredients:
For the crust:
1 and 1/4 cups ginger cookie crumbs
1/4 cup butter, melted
For the filling:
Three 8-ounce packages of cream cheese, softened
1 cup granulated sugar
1 tsp cinnamon
1/2 tsp ginger
1/2 tsp nutmeg
2 cups pumpkin puree
4 large eggs
1 cup whipped cream for topping (optional, but recommended)
Method:
Preheat your oven to 350 degrees.
Combine the melted butter and cookie crumbs in a bowl. Once thoroughly combined, press the crumb mixture into the bottom of a 9-inch springform pan. Bake for 10 minutes, then remove from oven and cool for 15-20 minutes on a wire rack. While the crust is cooling, lower the oven temperature to 300 and start working on the filling.
To make the filling, combine the cream cheese, sugar, and spices in a bowl and mix until smooth and fluffy.
Add the pumpkin and mix well.
Add in the eggs one at a time at a low speed, beating until just-combined.
Spread the pumpkin filling evenly over the cooled crust and bake for one hour.
After an hour, turn off the oven and open the door partway. Allow the cheesecake to sit in the opened oven for about 30 minutes, then transfer to a wire rack to cool for another 45-60 minutes.
Cover the cheesecake and transfer it the refrigerator to chill for at least three hours.
Remove the cheesecake from the fridge about 20 minutes or so before you want to serve it. I suggest topping it with whipped cream, but if you're a purist, you can skip this step. The benefit of having a whipped cream topping is that it helps cover up any cracks that may have formed in your cheesecake. Oh yeah, and it tastes really good.