In case you've never been fortunate enough to have a whoopie pie, you should only know how much these things rock. Imagine two moist, cakey discs surrounding a rich layer of creamy filling. Talk about yum.
I've been wanting to make classic whoopie pies for some time now but never got around to it, and since I'm currently deep in fall baking mode, I decided that my inaugural whoopie pie attempt would feature none other than pumpkin.
Though I was intimidated at first by the idea of making whoopie pies, especially without a designated whoopie pie pan, I wound up having absolutely no trouble with these. The cake itself came out springy and packed with flavor, and the frosting was the perfect accompaniment.
Now that I've dabbled in the world of whoopie pies, I may have to try the classic chocolate version one of these days. Because, you know, that's what I need around my house – more cake.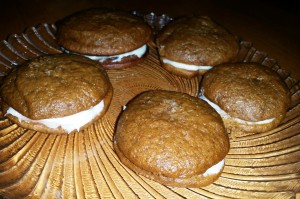 Pumpkin Whoopie Pies With Maple Cream Cheese Filling
Recipe From Lovin The Oven
Ingredients:
For the cakes:
3 cups all-purpose flour
1 tsp salt
1 tsp baking soda
1 tsp baking powder
2 TBSP cinnamon
1 tsp ground ginger
½ tsp ground fresh nutmeg
1 cup granulated sugar
1 cup dark brown sugar, firmly packed
1 cup canola oil
3 cups chilled pumpkin puree
2 large eggs
1 tsp vanilla extract
For the filling:
3 cups powdered sugar
½ cup unsalted butter, at room temperature
8 ounces cream cheese, at room temperature
3 TBSP maple syrup
1 tsp vanilla
Method:
Preheat your oven to 350 degrees. Prepare 2-3 baking sheets lined with parchment paper.
In a large bowl, whisk together the flour, salt, baking soda, baking powder, and spices. Set aside.
In a separate bowl, whisk together the sugars and oil. Add the pumpkin puree and whisk to combine thoroughly. Add the eggs and vanilla and whisk until combined.
Sprinkle the flour mixture over the pumpkin mixture and whisk until thoroughly combined.
Use a small ice cream scoop with a release mechanism to drop heaping tablespoons of the dough onto the prepared baking sheets, about 1 inch apart.
Bake for 10-12 minutes until the cakes are just starting to crack on top and a toothpick inserted into the center of a cake comes out clean.
Remove from the oven and let the cakes cool completely on the pan while you make the filling.
To make the filling, beat the butter until smooth with no visible lumps. Add the cream cheese an beat until combined.
Add the powdered sugar, maple syrup, and vanilla, and beat until smooth.
To assemble the whoopie pies, turn half of the cooled cakes upside down. Pipe filling onto each half, then place another cake, flat side down, on top of the filling. Press down slightly so that the filling spreads to the edges of the cake. Repeat until all cakes are used.
Place the whoopie pies in the refrigerator for about 30 minutes to firm up. If you're serving them right away, you can remove them once they're firm and keep them stored at room temperature; otherwise leave them in the fridge, where they'll keep for a couple of days.