Wow, that's a mouthful. No pun intended. The great thing about blondies is that they can be pretty simple. Or not, like these bars. Want to know what inspired these? I was sort of looking for a way to emulate the taste of Chubby Hubby, one of my favorite Ben & Jerry's ice cream flavors, in blondie form, and this is what I came up with.
These bars are pretty outrageous. You've got a sweet and salty pretzel crust on the bottom, a rich caramel-peanut butter blondie center packed with chocolate chips in the middle, and a generous layer of chopped peanut butter cups to top it all off. In other words, these bars are really rich. But really, really good.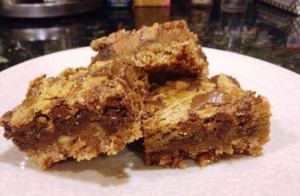 Pretzel-Crusted Chocolate-Peanut Butter Caramel Blondies
Ingredients:
For the crust:
2 cups crushed pretzels
1/2 cup (1 stick) melted butter
1/2 cup dark brown sugar
For the blondie layer:
1/2 cup (1 stick) unsalted butter, melted and cooled to room temp
1 cup light brown sugar
1 large egg
2 tsp vanilla
1 cup AP flour
1/4 tsp salt
1/2 cup smooth peanut butter
3/4 cup semisweet chocolate chips
1/2 cup caramel sauce (store-bought is fine, or make your own by melting about 12 Kraft caramel candies with a tablespoo of heavy cream)
1 cup chopped peanut butter cups, for topping
Method:
Preheat your oven to 350 degrees. Grease a 9×9 baking pan and set aside.
Make the crust by combining the pretzels, melted butter, and brown sugar in a small bowl and mixing well. Press the crust into the bottom of your prepared pan and bake for 10 minutes. Remove from oven and set aside.
In a medium bowl, whisk together the melted butter, brown sugar, peanut butter, and egg. Stir in the vanilla.
In a separate bowl, combine the flour and salt.
Stir the dry ingredients into the wet until well-combined. Then, stir in the caramel sauce and chocolate chips.
Pour the batter on top of the crust. Sprinkle the chopped peanut butter cups on top of the blondie layer.
Bake for 30-35 minutes, or until an inserted toothpick comes out clean. Let the blondies cool in the pan (at least one hour) before slicing and serving.