Looking for a pumpkin-infused twist on a simple, classic brownie? Try this recipe. It's quick, easy, and very, very tasty. Plus, you can use any leftover pumpkin-caramel sauce as a topping for your next ice cream sundae. (Or, you know, just eat the remains with a spoon…)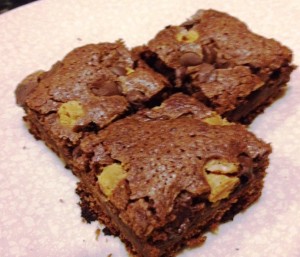 Brownies With Pumpkin Caramel Sauce and White Chocolate Chips
Ingredients:
1 stick of butter, melted
1/2 cup granulated sugar
1/2 cup dark brown sugar
1 large egg
1 tsp vanilla
1 cup AP flour
1/4 tsp salt
1/2 cup cocoa powder
1/2 cup white chocolate chips
1/3 cup pumpkin puree
1/2 cup caramel candies (I used Kraft)
1 tbsp milk
Method:
Preheat your oven to 350 degrees. Grease an 8×8 baking pan and set aside.
In a microwave-safe bowl, melt the caramel candies with the tablespoon of milk at 30-second intervals, stopping to stir in between. Once melted, stir in the pumpkin, and then set aside to cool to room temperature.
In a large bowl, whisk together the butter, sugars, egg, and vanilla. Set aside.
In a small bowl, combine the flour, salt, and cocoa powder.
Mix the dry ingredients into the wet until well-combined.
Stir in chocolate chips.
Pour the brownie batter into your prepared pan and then use a spatula to evenly spread the pumpkin caramel sauce on top.
Bake for 30-35 minutes, or until an inserted toothpick comes out clean. Let the brownies cool in the pan for two hours before slicing and serving.