Just when it seemed like the weather was finally starting to get a bit warmer around here, bam—another cold front hit. Okay, it wasn't exactly a cold front, but after several days of temps in the 60s and 70s (you know, actual spring weather), it went back down to the low 50s with a vengeance. Now I realize that 52 degrees isn't actually freezing. But throw in cloudy, gray skies, a bout of rain, and, oh yeah, the fact that it's late April, and all it took was a couple of cooler days to make me want to curl up in a blanket the moment I put the child to bed.
Of course, no couch potato moment would be truly complete without something freshly baked to accompany it, and so I decided to whip up some shortbread cookie bars. The base is very similar to that of the Samoa bars I made last week, only it incorporates a bunch of fall spices that jack up the flavor and work well with the caramel and white chocolate topping.
Now I have to say, I really love the way these babies turned out. But more so than that, they smelled absolutely amazing while they were baking up. Had I been able to somehow capture the smell and mass-produce a line of household products and candles to feature it, I would've found myself sitting on a goldmine. But alas, all I could do was enjoy the sweet aroma of vanilla, cinnamon, nutmeg, and cardamom wafting through the air as the rain kept rapping against my windows and the wind howled in protest of spring.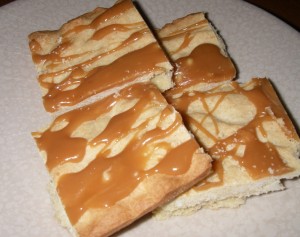 Vanilla Cardamom Shortbread Bars with White Chocolate Caramel Glaze
Ingredients:
For the shortbread cookie base:
1/2 cup sugar
3/4 cup butter, softened
1 large egg
1 and 1/2 tsp vanilla
2 cups Ap flour
1/4 tsp salt
1/4 tsp cardamom
1/4 tsp cinnamon
1/4 tsp nutmeg
For the topping:
1/2 cup Kraft caramel bits (or a half cup's worth Kraft caramel candies, unwrapped)
1 tbsp whole milk
1/2 cup white chocolate, melted
Method:
To make the shortbread cookie base:
1. Preheat your oven to 350 degrees. Lightly grease a 9×13-inch baking pan, or line with parchment paper.
2. Cream together sugar and butter until fluffy.
3. Beat in egg and vanilla extract.
4. Gradually beat in flour, salt, and spices at low speed until mixture is crumbly.
5. Pour crumbly dough into prepared pan and press into an even layer.
6. Bake for 20-25 minutes, until base is set and edges are lightly browned.
7. Cool completely on a wire rack before adding the topping.
To make the topping:
1. Combine caramel bits, milk, and white chocolate in a medium bowl.
2. Heat in the microwave for 30-second increments at 50% power, stirring the mixture in between. You'll find that the caramel will melt before the white chocolate, so it's important to keep stirring. When the white chocolate is mostly melted, vigorously whisk the mixture together to eliminate the lumps.
3. Drizzle the mixture over the shortbread base.
4. Allow to set in the fridge for an hour before cutting into bars.