It's been awhile since I've posted a recipe. That's what happens when life gets in the way of baking. But this is a good one, promise.
Ever since my Girls Scouts cookies were delivered back in March, I've been indulging on a pretty much regular basis. But this year, I decided to be conservative and only order one box of Samoas—my favorite. So when it came to my attention that I was starting to run out of my beloved Samoas, I decided to take matters into my own hands by whipping up some homemade Samoa cookie bars.
I've seen a few different recipes for these bars, some of which involve dipping the bottoms in chocolate. Since I didn't have a ton of time, I opted to skip that step and instead just drizzle chocolate on top of the bars—a little less Samoa-like, but delicious nonetheless.
Although this recipe is incredibly simple, there are several steps involved, and you need to wait for each layer to cool/set before moving on to the next. But as long as you leave yourself enough time, you should have no problem throwing these together over the course of an afternoon.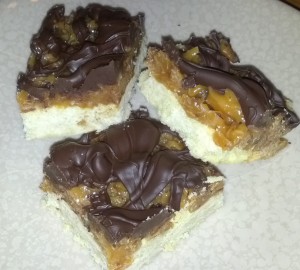 Samoa Bars
Recipe from Baking Bites
Ingredients:
For the shortbread cookie base:
1/2 cup sugar
3/4 cup butter, softened
1 large egg
1/2 tsp vanilla
2 cups Ap flour
1/4 tsp salt
For the topping:
3 cups shredded sweetened coconut
12 oz chewy caramels (I used Kraft)
1/4 tsp salt
3 tbsp milk (I used whole)
10 oz semisweet chocolate
Method:
To make the shortbread cookie base:
1. Preheat your oven to 350 degrees. Lightly grease a 9×13-inch baking pan, or line with parchment paper.
2. Cream together sugar and butter until fluffy.
3. Beat in egg and vanilla extract.
4. Gradually beat in flour and salt at low speed until mixture is crumbly.
5. Pour crumbly dough into prepared pan and press into an even layer.
6. Bake for 20-25 minutes, until base is set and edges are lightly browned.
7. Cool completely on a wire rack before adding the topping.
To make the topping:
1. Preheat your oven to 300 degrees.
2. Spread the coconut evenly on a parchment-lined baking sheet and toast for about 20 minutes, stirring every few minutes, until coconut is golden. Let cool and set aside.
3. Unwrap your caramels and place them in a microwave-safe bowl along with the milk and salt. Cook on high for about 3-4 minutes, stopping to stir a few times to help the caramel melt evenly. Once smooth, fold in toasted coconut with a spatula.
4. Pour dollops of the coconut-caramel topping over the cooled shortbread base. Using your spatula, spread the topping into an even layer.
5. Let topping set at room temperature until cooled, about 1 hour.
6. Melt your chocolate – I used the microwave method. Place chocolate in a microwave-safe bowl and cook on 50% power in 30-45 second intervals, stirring in between.
7. Once melted, drizzle chocolate over the tops of the bars (it won't cover them completely).
8. Let the chocolate topping set before cutting the bars, either 2 hours at room temperature or 1 hour in the fridge. Once cooled, use a sharp knife to cut into individual bars.