To me, Labor Day marks the official end of summer and beginning of fall. I know the calendar might say otherwise, but there's just something about the start of September that puts me into a fall state of mind. And the string of cooler weather in New Jersey this past week definitely contributed to that effect. We had several days of what I'd describe as perfect weather—low 70s and sunny during the day, cooler and breezy at night without actually being cold.
Being a lover of all things fall-related, I decided to bake up a batch of one of my favorite cookie recipes. I found this recipe online a long time ago and at this point, I honestly don't remember where it came from. What I do know, however, is that it works really well with all types of apples. This year, I used a combination of Gala and Granny Smith apples to make my cookies, but in previous years, I've used McIntosh, Delicious, and Braeburn apples as well. The key, I think, is to include at least one tart apple (like the Granny Smith) to balance out the sweetness a little.
While these cookies do take a little time to put together, they aren't overly complicated and are well worth the effort. I love the fact that they come out soft, cakey, and incredibly moist. If you're a fan of apples, pecans, and fall flavors, you should definitely give this recipe a try.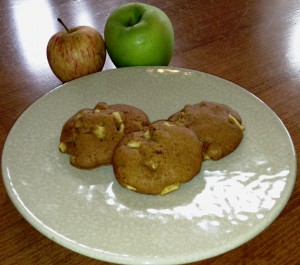 Apple Pie Cookies
Ingredients:
3 cups AP flour
1 tsp baking powder
1 tsp baking soda
½ tsp salt
2 tsp cinnamon
1 tsp ginger
½ tsp nutmeg
1 cup butter, at room temp
1 and ½ cups brown sugar (I like to use half dark brown and half light brown)
2 large eggs
4 tbsp maple syrup (though I prefer to stick to the quality stuff, you could use your basic pancake syrup in a pinch)
2 and ½ cups fresh apples, peeled and diced
1 and ½ cup toasted pecans, chopped
Method:
1. Preheat your oven to 350 degrees. Line several baking sheets with parchment paper (this recipe yields anywhere from four to six dozen cookies depending on how big you make them, so plan accordingly).
2. In a medium bowl, whisk together the flour, baking powder, baking soda, salt, and spices.
In a large bowl (I use a stand mixer), cream together the butter and sugar until light and fluffy. Beat in the eggs, one at a time, and then blend in the maple syrup.
3. Gradually blend in the flour mixture at a low speed. Once incorporated, stir in the apples and toasted pecans by hand.
4. Drop by ¼ spoonfuls (or your desired size) onto your prepared baking sheets.
5. Bake for 15-18 minutes, or until the cookies are browned around the edges. Let the cookies cool on the baking sheets for about 5 minutes before transferring to a wire rack to cool completely.
When stored in an airtight container at room temperature, these can last up to a week.