Wowsa. It's been over a month since I've posted on here, so now that the weather is cooling down, I'll have to get myself back into the swing of baking. I know I've mentioned before that I tend to bake less frequently during the summer, and I basically spent most of August avoiding the oven and indulging in frozen desserts instead. But just this past week, the weather suddenly turned cooler, and in a really nice way. And it was just enough motivation to get myself back into the kitchen and do a nice amount of baking.
While I tackled several different recipes over the past week, the first one I'd like to share is something simple yet tasty. These brownies are really a cinch to whip up. As is the case with most of the brownie recipes I like to make, this batch requires nothing more than a couple of mixing bowls and some basic ingredients. There's no need to bust out the fancy tools or spend more than 15-20 minutes putting everything together. Plus, these brownies are really adaptable to a variety of mix-ins, so if peanuts and pretzels aren't your thing, feel free to substitute something else.
Here's to what will hopefully be a busy month of baking and a glorious start to fall.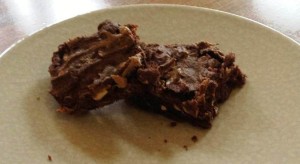 Chocolate Peanut Butter Pretzel Brownies
Ingredients:
1 cup AP flour
1 stick of butter, melted and cooled to room temperature
½ cup light brown sugar
½ cup granulated sugar
½ cup unsweetened cocoa powder
1 egg
¼ cup peanut butter, plus more for topping
½ cup crushed pretzels
½ cup chopped peanuts

Method:
1. Preheat your oven to 350 degrees. Grease an 8×8 baking pan and set aside.
2. In a small bowl, whisk together the flour, cocoa powder, and salt. Set aside.
3. In a medium-sized bowl, whisk together the cooled melted butter and sugars until smooth. Beat in egg.
4. Mix in ¼ cup peanut butter, then slowly incorporate the flour and cocoa mixture, mixing well until fully blended into the wet ingredients.
5. Stir in the pretzels and peanuts.
6. Pour the batter into the prepared pan (it will be thick). Using the back of a spoon, swirl additional peanut butter on top of the brownie batter as desired.
7. Bake for 27-32 minutes, or until an inserted toothpick comes out clean. Let the brownies cool completely in their pan (at least 60 minutes but better to wait two hours to be safe) before cutting into them.