Is it ever going to stop snowing around here? Yesterday was so nice I decided to take my son out for a walk…and today it's snowing again. It's snowing a lot. And I'm tired of it. Thank goodness I have cookies. Cookies make everything better.
These cookies are really easy to make, and I like the contrast of the white chocolate chips with the dark chocolate base. I especially like dipping these babies in hot chocolate while watching the snow fall from the comfort of my living room.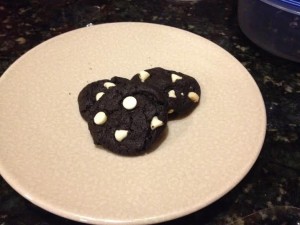 Dark Chocolate Cookies With White Chocolate Chips
Ingredients:
1 cup butter, softened (but not melted)
2 cups granulated sugar
2 large eggs
2 teaspoons vanilla
2 cups AP flour
3/4 cup dark cocoa (I used Hershey's Special Dark)
1 teaspoon baking soda
3/4 teaspoon salt
1 and 1/2 cups white chocolate chips
Method:
Preheat your oven to 350 degrees. Very lightly grease a few baking sheets and set aside.
In a large bowl, cream together the butter and sugar until smooth.
Beat in the eggs one at a time, then stir in the vanilla.
In a separate bowl, whisk together the flour, cocoa, baking soda, and salt. Pour the dry ingredients into the wet and mix until well-combined.
Stir in the white chocolate chips.
Drop the dough by rounded spoonfuls onto your cookie sheets.
Bake for 9-11 minutes, or until the outsides of the cookies get crisp (the centers may still be somewhat soft but they will firm up during the cooling process).
Remove the cookie sheets from the oven and let the cookies rest on the sheets for two minutes; then transfer the cookies to a rack to cool completely.