There's just something about warm, fudgy brownies that helps me feel far less bitter when the pretty fall leaves begin to disappear and the weather suddenly turns markedly colder. Since I have a tendency to jazz up my brownies, I decided to take one of my basic recipes and add a chewy coconut layer.
These brownies are rich and super-sweet – so much so that even I, the self-proclaimed world's biggest sweet tooth, could only eat one at a time. In fact, they kind of tasted like a Mounds candy bar in brownie form. If you're a fan of coconut and love brownies, give this quick, easy recipe a try.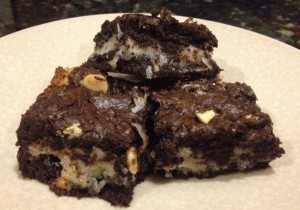 Coconut-Filled Brownies
Ingredients:
1 stick of butter, melted
1/2 cup granulated sugar
1/2 cup brown sugar (I used dark; light will also work)
1 large egg
1 tsp vanilla
1 cup AP flour
1/4 tsp salt
1/2 cup cocoa powder (I used Hershey's Special Dark)
1/2 cup white chocolate chips (feel free to substitute with semisweet chips or omit)
1 and 1/2 cups sweetened coconut flakes
1/2 cup sweetened condensed milk
Method:
Preheat your oven to 350 degrees. Grease an 8×8 baking pan and set aside.
In a large bowl, whisk together the butter, sugars, egg, and vanilla. Set aside.
In a small bowl, combine the flour, salt, and cocoa powder.
Mix the dry ingredients into the wet until well-combined.
Stir in chocolate chips.
Pour half of the batter into your prepared pan.
In a separate bowl, mix the coconut and condensed milk until thoroughly combined.
Pour the coconut mixture over the brownie layer in the pan, using a spatula to spread it evenly. Then, pour the remaining half of the brownie batter on top of the coconut layer, once again using a spatula as needed to smooth.
Bake for about 35 minutes, or until an inserted toothpick comes out clean. Let the brownies cool in the pan for at least an hour before slicing and serving.