Oh pumpkin, how I love you so.
Really, I could go on and on about how much I adore pumpkin in just about any type of culinary application, but one of my favorite things to do with pumpkin is put it in cakes. And since I happen to love coffee cake in general, this recipe is just about perfection in my book.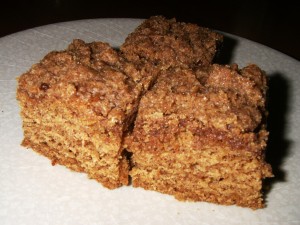 Pumpkin Coffee Cake With Brown Sugar Crumb Topping
Recipe from Sally's Baking Addiction
Ingredients:
For the cake:
2 cups AP flour
1 teaspoon baking soda
1/2 teaspoon baking powder
1/2 teaspoon salt
2 teaspoons ground cinnamon
1/2 teaspoon ground nutmeg
1/4 teaspoon allspice (the original recipe suggests cloves – take your pick, or just add a pinch more cinnamon and nutmeg if you don't have either)
1 cup pumpkin puree
1/2 cup dark brown sugar
1/2 cup vegetable oil
1/4 cup pure maple syrup (this is when you want to bust out the good stuff, if you have it)
1/4 cup buttermilk (regular milk will work as well)
For the topping:
1/2 cup AP flour
1/4 cup unsalted butter, cold
1/2 cup dark brown sugar
1/4 teaspoon salt (I used more like 1/2 teaspoon because I wanted the salt to help cut the sweetness a little; in reality, I think about 1/3 of a teaspoon would be ideal)
2 teaspoons ground cinnamon
Method:
Preheat your oven to 350 degrees. Grease a 9×9 baking pan and set aside.
Make the crumb topping first: In a small bowl, toss the flour, brown sugar, salt, and cinnamon together. Cut in the cold butter using a pastry blender or a fork. Use your fingers to create clumps and crumbs. Set aside in the fridge until ready to use.
For the cake, whisk together the flour, baking soda, baking powder, salt, and spices in a large bowl until combined.
In a medium bowl, whisk together the pumpkin, brown sugar, oil, maple syrup, and milk.
Pour the wet ingredients into the dry ingredients and stir until just combined. Try not to over-mix the batter, which will be thick.
Pour the batter into the prepared pan and then use your fingers to sprinkle the crumb mixture evenly on top. It helps to coat your hands with a little cooking spray so that the crumbs don't stick to your fingers.
Bake for 30 minutes, or until an inserted toothpick comes out clean.
Let the cake cool in its pan before slicing and serving.