I have something shocking to admit: I haven't been in much of a baking mood lately. I know—blasphemy, but this tends to happen to me during the summer. Still, I did decide this week to whip up a batch of blondies, and I'm glad I did, because they were the perfect accompaniment to the raspberry swirl ice cream I've been devouring like a madwoman.
These blondies are basically your classic Cranberry Bliss Bar without the frosting. If you want to add frosting, you can find the recipe here. But I felt that these were more than sweet enough without it (thank you, white chocolate).
These blondies strike that perfect balance of being chewy yet light; and the cranberries add a nice touch of tartness to a sweet white chocolate-infused batter. Best of all, they're really easy to throw together. My batch took less than 15 minutes from start to finish, including cleanup. And aside from tasting great, they're also pretty to look at. If you're in the mood for a quick summertime treat, these blondies will be sure to hit the spot.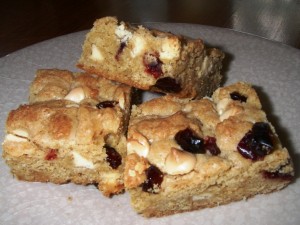 White Chocolate Cranberry Blondies
Recipe from RecipeGirl

Ingredients:
3/4 cup butter
1 and 1/2 cups packed light brown sugar
2 large eggs
3/4 teaspoon vanilla extract
2 and 1/4 cups AP flour
1 and 1/2 teaspoons baking powder
1/4 teaspoon salt
1/4 teaspoon ground cinnamon (the original recipe said 1/8 of a teaspoon, but I like a slightly stronger cinnamon essence; you can also add a pinch of nutmeg if you enjoy that flavor profile)
1/2 cup dried cranberries
6 ounces white chocolate, coarsely chopped (or you can use white chocolate chips)

Method:
1. Preheat your oven to 350 degrees. Spray a 13×9-inch baking pan with nonstick spray and set aside.
2. Melt the butter for one minute in the microwave; stir in brown sugar and then cool to room temperature.
3. Beat or whisk in the eggs and vanilla.
4. In a separate bowl, whisk together the flour, baking powder, salt and cinnamon.
5. Gradually add the dry mixture to the butter mixture.
6. Stir in the cranberries and chopped chocolate. Note that your batter will be thick.
7. Spread your batter into the prepared pan and bake for 20-25 minutes, or until an inserted toothpick comes out clean.
8. Let the blondies cool in their pan completely before cutting and serving.