Delicious things don't have to be complicated. Case in point: these moist, yummy chocolate chip muffins. I was given about an hour's notice that we were having company this past weekend (that's what happens when you let your husband make the plans), so I needed something quick and insanely easy to offer up to our guests. This recipe totally did the trick, and by the time our company arrived, I had these wonderful little muffins all nice and ready to serve.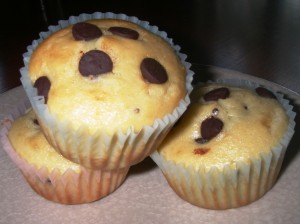 Chocolate Chip Muffins
Recipe from Bakerella
Ingredients:
1 and 1/2 cups AP flour
1/2 cup granulated sugar
1 and 1/2 teaspoons baking powder
1/2 teaspoon salt
3/4 cup sour cream
1/4 cup milk (whole is best, but others work)
2 eggs
2 teaspoons vanilla
1/4 cup melted butter, cooled slightly
6 ounces semisweet chocolate chips
Method:
1. Preheat your oven to 350 degrees.
2. Line a muffin tray with 12 regular baking cups.
3. In a medium bowl, whisk together the flour, sugar, baking powder, and salt.
4. In another bowl, stir together the sour cream, milk, eggs, vanilla, and melted butter.
5. Incorporate the wet ingredients into the dry ingredients, mixing well.
6. Stir the in chocolate chips and divide the batter evenly into your baking cups.
7. Bake for about 22 minutes, or until an inserted toothpick comes out clean. (If you want your muffins to get a little crispier on top, leave them in the oven for an extra couple of minutes.)
8. Let the muffins cool in the pan for 1-2 minutes, then transfer to a wire rack to cool completely.