I've talked about my sweet tooth many times before, but let's discuss my obsession with sweet things one more time for the purpose of sharing my latest sugar-infused creation. This concoction is actually based on the white chocolate cranberry blondies I made over the summer. But whereas the dried cranberries in that recipe cut the sweetness factor a little, the toffee and toasted pecans in this one serve the opposite purpose. In other words, you've been warned: These blondies are sweet. Very sweet. But if you're like me, that's not such a bad thing.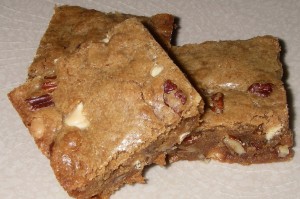 White Chocolate Toffee Toasted Pecan Blondies
Ingredients:
3/4 cup butter, melted and cooled to room temp
1 and 1/2 cups packed dark brown sugar
2 large eggs
3/4 teaspoon vanilla extract
2 and 1/4 cups AP flour
1 and 1/2 teaspoons baking powder
1/4 teaspoon salt
1/4 teaspoon ground cinnamon
3/4 cup white chocolate chips
3/4 cup toffee bits
3/4 cup chopped toasted pecans
Method:
1. Preheat your oven to 350 degrees. Spray a 13×9-inch baking pan with nonstick spray and set aside.
2. In a large bowl, whisk together the butter and brown sugar until well-combined.
3. Beat or whisk in the eggs and vanilla.
4. In a separate bowl, whisk together the flour, baking powder, salt, and cinnamon.
5. Gradually add the dry mixture to the butter mixture.
6. Stir in the white chocolate chips, toffee bits, and pecans. The batter will be thick.
7. Spread your batter into the prepared pan and bake for 27-32 minutes, or until an inserted toothpick comes out clean.
8. Let the blondies cool in their pan completely before cutting and serving.