Can you tell that I'm pretty much obsessed with pumpkin?
Over the past few weeks, I've made pumpkin bread, pumpkin cookies, pumpkin brownies, pumpkin cheesecake, pumpkin whoopie pies, and pumpkin cake. Incidentally, I've also made pumpkin butter, pumpkin soup, pumpkin stew, and a host of other savory items featuring my favorite fall ingredient. But the one thing that was missing from the lineup until recently was the classic pumpkin pie.
Now don't get me wrong – I like pumpkin pie. Love it, in fact. But this year I kind of wanted to do something different. Enter these pumpkin pie bars, which are essentially pumpkin pie taken up a notch, and in a very good way.
At a recent get-together at my place, I served these bars cold and topped them off with homemade whipped cream, and they were a huge hit. If you're seriously into pumpkin like I am, go make these bars as soon as you have a chance.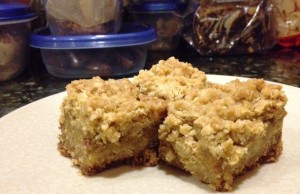 Pumpkin Oatmeal Crumb Bars
Recipe from Brown Eyed Baker
Ingredients:
For the Oatmeal Crumb:
1 and 1/4 cups all-purpose flour
1 and 1/4 cups quick oats
1/2 teaspoon baking soda
1/2 teaspoon salt
1/2 cup granulated sugar
1/2 cup light brown sugar
3/4 cup unsalted butter, melted and cooled slightly
1 teaspoon vanilla extract
For the Pumpkin Pie Filling:
1/4 cup granulated sugar
1/4 cup light brown sugar
1 teaspoon ground cinnamon
1/2 teaspoon ground nutmeg
1/4 teaspoon ground ginger
1/4 teaspoon salt
1 egg
1 egg yolk
1/2 teaspoon vanilla extract
1 and 1/4 cups canned pumpkin
1/3 cup evaporated milk
Method:
1. Preheat your oven to 350 degrees. Line an 8-inch square baking pan with parchment paper, allowing the excess to hang over the sides.
2. To make the crust, in a medium mixing bowl, whisk together the flour, oats, baking soda, and salt. Add both the granulated sugar and brown sugar and mix until no clumps remain. Add the melted butter and vanilla extract, then stir with a fork until the mixture is evenly moistened. Press half of the mixture into your prepared pan and bake for 15 minutes.
3. To make the filling, whisk together the granulated sugar, brown sugar, cinnamon, nutmeg, ginger, cloves and salt. Add the egg, egg yolk, and vanilla, and whisk until well blended. Whisk in the pumpkin and then the evaporated milk until the mixture is smooth and thoroughly combined.
4. When the crust has finished baking, pour the filling over the bottom crust and return it to the oven for 15 minutes. Remove it from the oven, pinch the remaining oatmeal crumb mixture into small pieces, and sprinkle it over the top of the filling.
5. Return the pan to the oven and bake for an additional 20 to 25 minutes until the top starts to brown and the center jiggles only slightly.
6. Remove the pan from the oven and allow the bars to cool to room temperature for at least 1 to 2 hours. Then, transfer the pan to the refrigerator and chill for at least 2 hours. Store leftovers covered in the fridge – they'll keep for a few days, assuming they don't get gobbled up first.