For me, September is the time to indulge in everything apple. But come October, I tend to be all about the pumpkin. This year, I decided to make the transition from apple- to pumpkin-centric baking just a bit smoother by using both in a single cake.
This recipe is incredibly easy to whip up, and it produces a cake that's soft, moist, and full of my favorite fall flavors. You can use canned pumpkin without a problem, but because I happened to go pumpkin picking recently, I chose to cook and puree some fresh pumpkin for my batter.
I'm really excited to start experimenting with some new pumpkin recipes, both sweet and savory. But for now, I'll most likely be focused on eating this cake for the better part of the week until it's gone.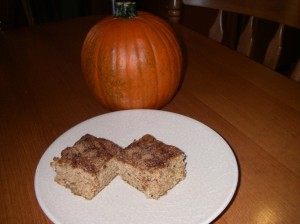 Apple Pumpkin Cake
Ingredients:
1 and 1/4 cups AP flour
1 cup granulated sugar
1/2 tsp baking soda
1/2 tsp salt
1/2 tsp cinnamon
1/2 tsp nutmeg
1/2 tsp allspice
1 egg
1/4 cup vegetable oil
1 cup apples, peeled and chopped
1/2 cup pumpkin (fresh or canned)
Method:
Preheat your oven to 350 degrees. Lightly grease an 8×8 baking pan and set aside.
In a large bowl, whisk together the flour, sugar, baking soda, salt, and spices.
Beat the eggs in a separate bowl. Add the oil, apples, and pumpkins, and stir together until well-combined.
Pour the apple-pumpkin mixture into the flour mixture, stirring until thoroughly combined.
Pour the batter into your prepared pan and bake for 25 minutes, or until an inserted toothpick comes out clean. The cake should be soft and springy, so try not to overbake.
Let the cake cool completely in the pan before cutting into it.
Notes:
Looking to feed a larger crowd? Just double the recipe and use a 9×13 pan instead.
If you choose to use canned pumpkin for this recipe, make sure to buy regular, unsweetened pumpkin, as opposed to pumpkin pie filling.