I did a whole lot of baking this past weekend—so much so that I'm only first getting around to posting some photos and recipes now. I made this cake for a family get-together and it turned out delicious. I used one of my favorite vanilla cake recipes and then added a yummy coconut frosting and filling. The frosting was pretty sweet (as frosting tends to be) but the filling wasn't; and the classic but simple vanilla cake was a nice contrast.
As far as layer cakes go, this one was very easy to whip up. The vanilla cake itself can be thrown together in no time, and then it's just a matter of letting it cool before assembling—and you can work on the filling and frosting in the meantime.
I recommend serving this cake the same day you make it, if possible. It'll still be good the day after, and probably even the day after that, but it's wonderfully moist and fresh the day it actually comes out of the oven.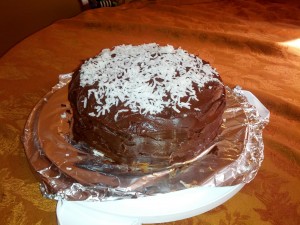 Vanilla Coconut Cake
Recipe pieced together from here and here
Ingredients:
For the vanilla cake:
1 and 1/2 cups self-rising flour
1 and 1/4 cups all-purpose flour
2 sticks of unsalted butter, softened
2 cups sugar
4 large eggs, at room temperature
1 cup milk (I used half skim and half whole)
1 teaspoon vanilla extract
For the coconut filling:
6 tbsp sugar
1/2 cup sour cream
2 tbsp coconut milk
2/3 cup sweetened shredded coconut (the original recipe calls for 1/2 cup, but I found that the extra coconut helped thicken up the filling for a more substantial layer)
For the chocolate-coconut frosting:
1 stick of butter
2 oz unsweetened chocolate, chopped
1/4 cup cocoa powder
2 cups confectioners sugar
5 tbsp coconut milk
1 tsp vanilla
1/4 tsp salt
1/3 cup sweetened shredded coconut for garnish
Method:
For the vanilla cakes:
1. Preheat your oven to 350 degrees. Butter and flour two 9-inch cake pans; set aside.
2. Combine the flours and set aside.
3. Cream the butter and sugar until fluffy, about 2-3 minutes.
4. Add the eggs, one at a time, beating well after each addition.
5. Add the dry ingredients in three parts, alternating with the milk and vanilla. Be careful not to overbeat.
6. Using a rubber spatula, scrape down the sides of your mixing bowl to make sure the ingredients are well-blended.
7. Pour the batter into your prepared cake pans and bake for 30-40 minutes, or until an inserted toothpick comes out clean (I have a convection oven, and my cakes were done at about the 32-minute mark).
8. Cool the cakes in their pans for about 15 minutes; then invert them onto a wire rack and let them cool completely before assembling the cake.
For the coconut filling:
1. Beat together the sugar, sour cream, coconut milk, and shredded coconut until the mixture is smooth and well-blended; store in the refrigerator until you're ready to assemble the cake.
For the chocolate-coconut frosting:
1. Using either a saucepan over low heat or your microwave at half-power, melt the butter and unsweetened chocolate until the mixture is smooth. Cool for 10-15 minutes, or until mixture is at room temperature.
2. Transfer the mixture to a larger bowl and blend in the cocoa powder, confectioners sugar, coconut milk, vanilla, and salt. Beat until the frosting is smooth and slightly fluffy. You can add additional confectioners sugar by the tablespoon if you want or need to thicken the frosting.
To assemble:
1. Place one of the vanilla cakes onto a serving plate. Use a knife to level off the top to make it flat, if needed.
2. Spread coconut filling on top of the first cake layer.
3. Check your second cake to make sure the top is relatively flat. If not, use a knife to carefully flatten. Gently place the second cake layer on top of the coconut filling.
4. Use a spatula to cover the top and sides of the cake with frosting.
5. Sprinkle shredded coconut on top of the cake to garnish.
I recommend storing this cake at room temperature the day you make it to keep it nice and moist. However, I'd transfer it to the fridge if it doesn't all get eaten that same day. Plan ahead when digging into the leftovers—you'll want about 30-60 minutes to bring the cake back to room temperature after it comes out of the fridge, though my husband ate it cold and liked it just as much as he did the first day.