Okay, I'm going to come right out and say it: I'm way overdue for a sugar detox. I blame the winter, really—the constant cold weather makes me want to spend my (limited) free time indoors, whipping up goodies and then eating them on the couch all wrapped up in a blanket. But lately I've been going overboard, just tossing all notions of self-control out the window in favor of frequent face-stuffing and brownies galore. It has to stop, at least for a day or two.
Of course, when I say sugar detox, I'm talking in relative terms. I mean, a girl's still gotta eat, right? But I did decide to whip up a recipe that's relatively light on the sugar front.
This carrot loaf is one that my mom used to make back when I was a kid. She actually used to serve it a side dish during dinner, but it's just sweet enough to qualify as dessert. In my mind, it's actually the perfect breakfast food. And best of all, it's super easy to make. The toughest part is grating the carrots, and if you've got a food processor, that takes no time. Once your carrots are ready, it's a simple matter of throwing the ingredients into a large bowl and mixing them together by hand.
As far as serving goes, I prefer this carrot loaf at room temperature, but I know some people like it warm. And my husband likes it cold right out of the fridge, so when I make it, I usually stick half in there for him and keep my half on the counter. In fact, another great thing about this recipe is that it'll keep for several days stored at room temperature and up to a week in the fridge—though it never lasts that long in my house because of that self-control thing we talked about earlier. At least I'm aware of the problem.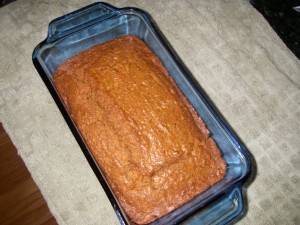 Mom's Carrot Loaf
Ingredients:
2/3 cup butter or margarine
1/2 cup brown sugar
1 egg
2 cups grated carrots
1 1/4 cup flour
1 tsp. baking powder
1 tsp. baking soda
1 TB lemon juice
1 TB water
1 tsp. vanilla
1/2 tsp cinnamon
1/2 tsp. salt
Method:
1. Preheat your oven to 350 degrees and lightly grease a medium-sized loaf pan.
2. Whisk together flour, baking powder, and baking soda together.
3. Add egg and brown sugar; whisk to combine.
4. Stir in lemon juice, water, vanilla, cinnamon, salt, and carrots.
5. Pour into prepared pan and bake for 45-55 minutes, or until an inserted toothpick comes out clean. Cool in pan on a wire rack.