I love brownies for a number of reasons, one of which is the fact that they're just so easy to whip up. I was having company yesterday and needed something quick to throw together. Enter these brownies. I used my go-to brownie recipe but decided to throw in some chopped Rolo candies for added flavor. I love the way the caramel melts into the brownies during the baking process. Of course, you really could substitute any other candy and these would still come out great. Next time around I may opt to chop up some Heath bars for a toffee-flavored spin.
Rolo-Stuffed Brownies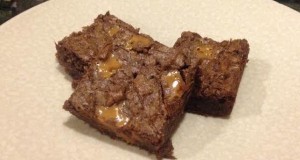 Ingredients:
1 stick of butter, melted
1/2 cup granulated sugar
1/2 cup dark brown sugar
1 large egg
1 tsp vanilla
1 cup AP flour
1/4 tsp salt
1/2 cup cocoa powder
1 cup Rolos, chopped (I cut each individual Rolo candy into 4 pieces)
Method:
Preheat your oven to 350 degrees. Grease an 8×8 baking pan and set aside.
In a large bowl, whisk together the butter, sugars, egg, and vanilla. Set aside.
In a small bowl, combine the flour, salt, and cocoa powder.
Mix the dry ingredients into the wet until well-combined; then stir in the chopped Rolos.
Pour the batter into your prepared pan. Bake for 28-32 minutes, or until an inserted toothpick comes out clean. Let the brownies cool in the pan for at least an hour before slicing and serving.